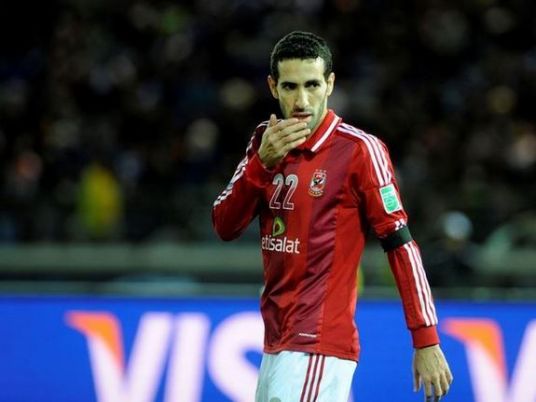 Football enthusiasts expressed stun on social media, and called the government move "unfair" in support of ex-midfielder Mohamed Abu Treka, after he was put on an official terror list.
Retired football star, Abu Treka led Egypt's national team for nearly a decade and is widely considered to be the most admired player in his generation.
He is accused of funding the banned Muslim Brotherhood, which Egypt's government designated a "terrorist" organization after the army ousted the elected President Mohamed Morsi, who was a high-ranking Muslim Brotherhood member.
Twitter users quickly took to the social media platform in support of the football player to express their disgruntle with the decision, by tweeting on the hash tags #ارهابي_القلوب (Our hearts' terrorist) and #ابو_تريكة_مش_مجرم (Abu Treka is not a criminal), which rapidly became two of the top trending hashtags in Egypt on Thursday.
Lawyers and public figures have also been expressing their opinions regarding the government's decision.
"When Abu Treka becomes a terrorist; Egyptians defending Egyptian islands become traitors; and the presence of cultural and human rights libraries in popular neighborhoods becomes a threat to national security; know that we need to put different definitions to those words," Egyptian lawyer Khaled Ali, posted on his social media platforms.
Former Egypt international and Tottenham Hotspur striker Ahmed Hossam, a.k.a. "Mido", called on the government to clarify whether they had evidence that Abu Treka was linked to terrorism.
"Until that time, we will all keep defending him and I will continue to support him," he tweeted. "I doubt a man of his character could do anything against Egypt."
Egyptian actress Dalia El Beheiry's Facebook post also spurred widespread criticism, as she had harshly attacked Abu Treka on her private account saying: "[It is clear that] Abu Treika is a terrorist even before he supported the Muslim Brotherhood, his face says he is a terrorist."
El Beheiry apologized the day after in another Facebook post and deleted her previous words.
"I would like to apologize to the football player Mohamed Abu Treka, to his audience and to the majority of Egyptians for any misunderstanding or hurt I may have caused.. My posts do not mean to defame or hurt anyone, it was nothing more than a tease to some of my friends and relatives," she said.
On Sada El-Balad Channel, Egyptian TV host Ahmed Moussa also addressed the news of the football star's terrorism listing on his satellite show, saying: "You cannot exempt a football player from justice if he commits a crime. Everyone is subject to the law."
Meanwhile, Abu Treka's lawyer Mohamed Osman said the Criminal Court's decision was "contrary to the law", explaining that his client "has not been convicted or formally notified of any charges against him". He added that the decision will be appealed.
Back in 2015, a government committee established to seize and manage Brotherhood properties and funds froze Abu Treka's assets. The lawyer protested the fact that Abu Treka's assets freeze is still in place, despite a court ruling lifting the freeze in June 2016.
Abu Trika is currently in Gabon as a commentator for the Africa Cup of Nations tournament.
Osman did not specify when his client might return to his home country.