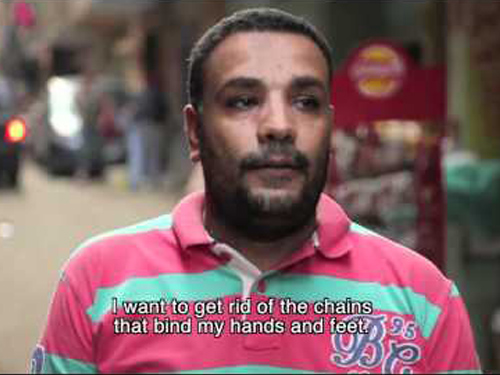 "Can't you hear the rhythm?" asks local musician and curator, Yara Mekawei with her ears perked toward the street below and her eyes closed. "It's in there, amidst the sounds of the horns honking, the feet shuffling, and the motorbike's growling engine."
For most people in and around downtown Cairo, the cacophony of sounds that make up the urban soundscape is nothing but unwanted noise. But for Mekawei, one person's noise may be another person's music.
"It's all about learning how to train your ears to hear the various layers of sounds — by opening up your ears, you can open up your mind," says Mekawei while sitting on the outside balcony of the 100Copies music space on Talaat Harb Street.
Inside the music space, a small handful of musicians and artists are planted in front of their computers — sitting side-by-side at a pod like workstation, their screens shine with musical production programs like Traktor and Ableton Live.
But the group sitting inside is not your average collection of musicians; in fact some of them are not musicians at all. They are however, the first participants in Mekawei's "Art of Noise" workshop, which has been taking place for the better part of a week and will culminate with a collaborative performance this Thursday 28 February.
In collaboration with the Swiss Arts Council, Pro Helvetia, and under the auspices of the famed, sound artist and experimental electronic musician, Joke Lanz, the workshop aims to trace, dissect, select, record and transform various and vibrant sounds of downtown Cairo in hopes of making definite claims on Egyptian society.
Sound art and experimental multi-media exhibition first began gaining popularity in Egypt through the works of artist, Ahmed Basiony. He is largely credited with being the pioneer of sound art in Egypt – Basiony was killed during protests during the onset of the 25 January revolution, but his work and inspiration lives on seen clearly through workshops like Art of Noise.
"The workshop is based around the idea of creating the possibility to collaborate, exchange ideas, and discuss new forms and concepts of Sound Art," explains Lanz. "It introduces concepts currently affecting the areas of sound recording, sonic arts, installation and sound design by using environmental recordings as the basis for discussion and praxis," he adds.
While many people in Egypt may not be familiar with Joke Lanz, his music, or his work, the Swiss artist is a household name for most experimental musicians and sound artists around the globe. Known for his unique style weaving of various artistic elements including performance and body art, combined with improvisation and noise; Lanz is considered one of the more prolific musicians in the realms of Sound Art.
His first and most widely known performance project, Sudden Infant, was launched close to 25 years ago. Under this guise, Lanz uses contact microphones, loops, tapes, field recordings and more, to create his unique blend of "physical sound poetry and epileptic noise bursts."
According to Lanz, Sound Art can be classified as a diverse group of art practices that take into account a wide notion of sound, listening, and hearing as its primary focus.
Since 1985, he has worked on a broad variety of musical projects including, Jaywalker, Psychic Rally, Vehikel & Gefäss, Catholic Boys in Heavy Leather, WAL, and Tell, in addition to composing music for contemporary dance, theater, films, installations and more.
But despite his many travels around the world, Lanz's first introduction to the Egyptian soundscape, or that of any Arab country, came about last year while undertaking a residency in Cairo with Pro Helvetia. It was during that time that Lanz was introduced to Mekawei's unique blend of experimental electronic music, noise and conceptual art.
"During my residency here, I came across Yara's exhibition titled, 'Shubra Line,' says Lanz. "I was very enthusiastic of her work in sound art — she's like a hurricane in the sense that she is constantly working on many different projects, and really excels at bringing people together."
Meanwhile, Mekawei had been a longtime fan of Lanz prior to meeting him. For years, she had been inspired by the work Lanz had created, consciously choosing to follow a similar path of sound art and experimental electronic music.
For close to seven years now Mekawei has been working on both musical production and curating sound art exhibitions in Egypt and abroad. Her more widely known exhibitions are "Shubra Line," a collaborative installation with artist Mina Nasr, and "Public Screens," a project that worked to bring video art to the street.
In the past several years, Mekawei has also garnered a great deal of accolade with her experimental electronic music productions and performances. Often working with fellow artist, Ola Saad under the collective name RGB, the duo have performed in the local 100Copies Music Festival in addition to concerts in Berlin, London, and Spain.
After finally meeting Lanz in Cairo last year, Mekawei began contemplating the idea of creating a workshop for local artists and musicians to help expand upon the idea of sound art in Egypt.
"My whole concept was talking about the noise of Cairo — how can we feel the difference in noise after the revolution?" says Mekawei. "The cars on the street, the chants from the marches, all of this has an affect on society — after pitching the idea to Joke, he agreed to help me create a workshop based around these concepts."
Several months later, and with a heavily detailed plan, Lanz and Mekawei were given the green light by Pro Helvetia to produce their workshop at the 100Copies music space.
The workshop officially kicked off this past week following an open call for participants. According to Mekawei, the workshop was never meant to target musicians exclusively, but rather conceptually minded people who were eager to dedicate time and collaborative energy toward the genre of sound art.
"This is about exploring the genre of sound art – which is basically works on your ears and memory — how can we make a track that allows the listener to conjure up a variety of images from their memory," she explains. "And then later we ask, the most important question: why? Why do these sounds create visceral images? What does this say about our society?" she asks.
"Another important target of the workshop is to emphasize the importance of group work, which we gravely miss in our society," says Mekawei. "I wanted to create a platform for the participants to feel free to improvise their ideas and collaborate together for a final performance output."
Led by Lanz, each day of the workshop focused on a different concept related to sound art, including the music of the environment, creative noise, instant composing, forms of presentations and performance.
For Lanz, the most significant part of the workshop was practiced on the first day under the lesson: "The thinking ear."
He says, "The first step for anyone wishing to work with sound is learning how to listen. That's why we spent the first day listening to a selection of field recordings, composed pieces, noise music and discussed at length what information these sounds transmit and the kinds of sonic effects they have on the listener."
Later in the workshop, the participants went on various "soundwalks" around downtown Cairo, where they were asked to search, select, and record the various soundscapes present. In the days that followed, the participants then used these clips to create an abstract montage of sounds in order to express their interpretation of Cairo's sound environment.
The project will culminate this Thursday at the 100Copies music space at 8:00 pm, when the participants will present their soundscape projects in what promises to be orchestra of toys, noise, instruments, and electronic music. The performance will also include a visual component made up of visual projections that reflect the music.
"My mission in life is to help make people more open minded," says Mekawei, "Learn, listen, and open your mind; that's really all we are trying to do."