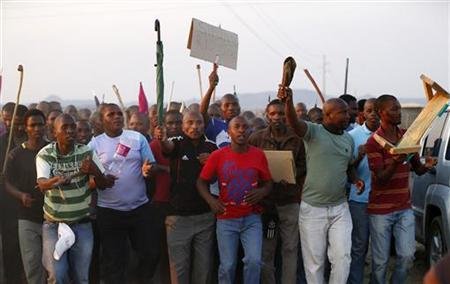 A Standard & Poor's executive expressed concern on Friday about South Africa's dismal growth and its reliance on capital flows, while the deputy central bank governor said the economy was "flat on its back".
The economy of Africa's most industrialised country is seen growing less than 1 percent this year after expanding 1.3 percent in 2015, hobbled by low commodity prices, drought and political ructions that have unnerved investors.
Analysts fear the economy is on track for a first recession in seven years and is also moving closer to downgrades to "junk" as major sectors of the economy slipped into sharp decline.
In December, S&P rated South Africa's debt just one level above subinvestment grade, with a negative outlook.
S&P's Managing Director for sub-Saharan Africa Konrad Reuss told a conference in Johannesburg that the firm was yet to see tangible outcomes since December from the numerous government growth plans that were "gathering dust".
He said reforms in state-owned firms were one way to boost growth, but this had not yet taken place.
"When we look at our announcement from December last year what really has come to the fore more than ever before is the economic assessment and the weakness in South Africa's economy," he said.
South Africa's rand fell more than 1.6 percent against the dollar following the comments from the ratings firm.
S&P rates South Africa's debt at BBB-, the same level as fellow ratings firm Fitch. The two firms are due to make their decisions in June.
The economy looks set for a period of prolonged weakness, with data this week showing manufacturing shrinking 2 percent and mining output plunging by 18 percent — the most on record.
A severe drought has triggered high inflation while battering consumer and business confidence, which hovers around a quarter-century lows, forcing the central bank to raise interest rates despite the lack of growth.
Data released on Monday showed first quarter unemployment had reached its highest levels ever at near 27 percent.
The central bank expects the economy to grow by 0.8 percent this year, while the International Monetary Fund has forecast 0.6 percent growth.
"It [the economy] is flat on its back," Mminele told Reuters in an interview on the sidelines of the World Economic Forum on Africa in the Rwandan capital Kigali.
Mminele however said improved power supply in South Africa should spur economic growth, after electricity blackouts in the first half of last year hit economic activity.