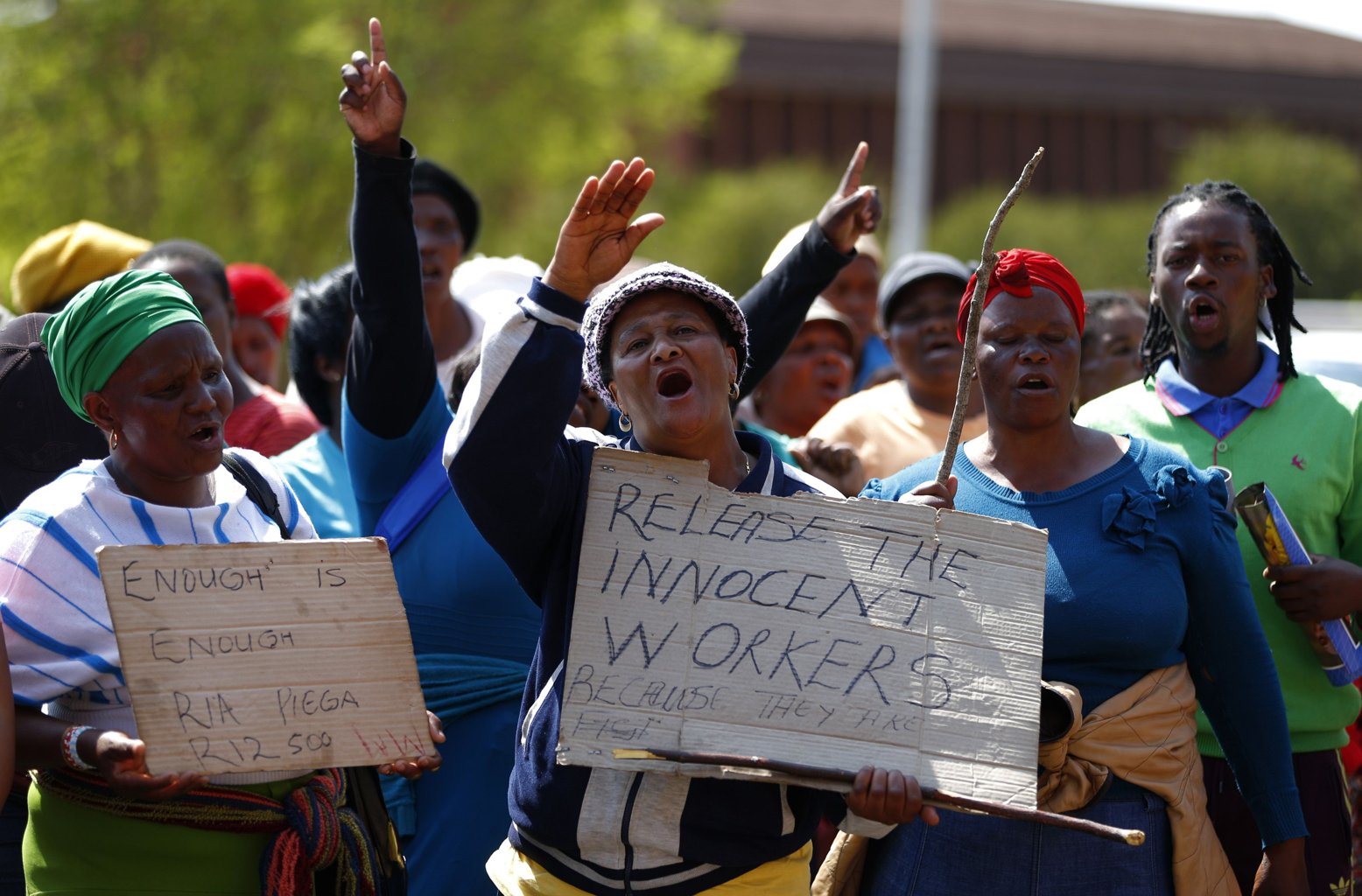 MARIKANA, South Africa — Striking platinum miners at Lonmin's Marikana mine in South Africa accepted a pay offer on Tuesday, ending six weeks of violent unrest that claimed 45 lives and rattled Africa's largest economy.
The strikers, grouped on a bare soccer pitch near the mine, 100 km (60 miles) northwest of Johannesburg, cheered when they were told that management were offering a 22 percent pay rise, and said they would return to work on Thursday.
"I am happy — and forward with the struggle," said one of the striking miners, Sithembile Sohati.
"It's a huge achievement. No union has achieved a 22 percent increase before," Zolisa Bodlani, a worker representative at Marikana, told Reuters.
In another sign that weeks of labor unrest in South Africa's platinum belt were ending, the world's biggest platinum producer, Anglo American Platinum, said it had resumed its operations in the strike-hit Rustenburg area.
The spot platinum price fell two percent on the Marikana news to US$1,627.49/oz and the rand firmed over one percent to 8.166 to the dollar.
The wildcat mining strikes hitting a major sector of the South African economy had depressed the rand, increased the cost of insuring against default on South African debt and spooked some foreign investors into selling mining shares.
The conflict, most notably the police killing of 34 Marikana strikers on 16 August, had also ignited criticism at home of President Jacob Zuma and his ruling African National Congress.
It triggered accusations from political rivals that the ANC government was neglecting poor workers and siding with wealthy business owners.
Other mines to follow suit?
At least one analyst expressed concerns that the Marikana wage increase could trigger a rash of pay demands across a mining sector already being squeezed by low metals prices and rising labor and electricity costs.
"The key worry now is that 22 percent wage rises will be seen spreading across the mine industry. That is hardly affordable in an industry with such hefty cost pressures already," said Peter Attard-Montalto, emerging market economist at Nomura International.
Marikana strikers' representative Bodlani said the workers had asked Lonmin management to promise that they would work with unions to reach within two years the 12,500 rand (US$1,500) basic monthly salary that the miners had originally demanded.
The company had not yet responded to this. It had previously argued that paying 12,500 rand a month would put thousands of jobs at risk and challenge the viability of the business.
In its statement, Amplats said it considered it was now safe for employees to return to their jobs but acknowledged that "many mining employees are still to return to work".
It said smelting and other processing operations at Rustenburg were already operating at normal levels.
Amplats suspended operations in the heart of the platinum belt last week when machete-wielding strikers marched on shafts.
The Marikana police shootings were the deadliest security incident since the end of white minority rule in 1994 and, for many South Africans, painfully recalled security force massacres of black demonstrators under apartheid.
In all, 45 people died in the Marikana unrest, which spread beyond Lonmin to other platinum firms around Rustenburg and some gold mines.
Malema defiant
ANC renegade Julius Malema, who was expelled from the party for indiscipline this year, has used the Marikana unrest to prelaunch his political career and to stir up opposition against Zuma ahead of an ANC leadership election in December.
Malema was barred by police on Monday from addressing the striking miners at Marikana.
He told a news conference in a smart Johannesburg hotel on Tuesday that his campaign to improve workers' pay and conditions would not be cowed by a police crackdown on agitators.
"Not even the president can stop me. Not even death can stop me. My ideas are out there. Even if I am no more, people will continue those ideas," he said.
South Africa is home to 80 percent of all known reserves of platinum and is a major gold producer. The labour unrest this year has cost the mining industry 4.5 billion rand (US$548 million) in lost output, Zuma said on Monday.
In a separate development, parliament approved a 5.5 percent pay increase for Zuma on Tuesday, taking his annual remuneration to 2.6 million rand (US$315,600) a year.
An illegal strike by 15,000 workers at the KDC West mine operated by Gold Fields, the world's fourth largest bullion producer, continued on Tuesday as its chief executive said the firm would not agree to demands for a minimum wage of 12,500 rand a month.
Concerned about the strikes' growing impact on the economy and on South Africa's reputation as a place to invest, the government launched a crackdown at the weekend that included deploying members of the armed forces to back police against violent strikers.