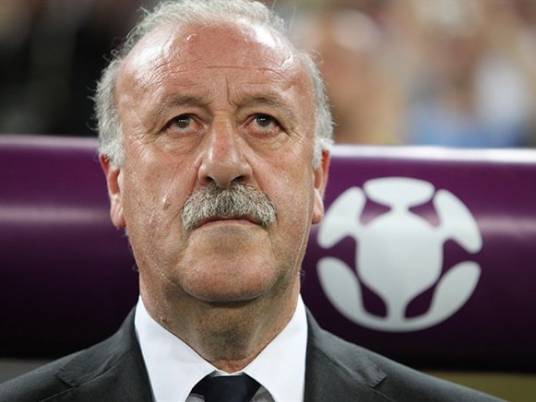 Spain coach Vicente del Bosque made 10 changes to his starting line-up as he crammed his team with attacking players for Thursday's Confederations Cup mismatch with minnows Tahiti in Rio de Janeiro.
Centre-back Sergio Ramos, who inherited the captain's armband, was the only player to keep his place from Sunday's 2-1 win over Uruguay, while Jose Reina took over from Iker Casillas in goal.
Attacking midfielders Juan Mata, Santi Cazorla and David Silva were added to the line-up alongside strikers Fernando Torres and David Villa, for a game in which the world and European champions will take on a team ranked 138th in the FIFA rankings.
Tahiti coach Eddy Etaeta, who saw his side thrashed 6-1 by Nigeria in their Group B opener on Monday, made 2 changes.
Goalkeeper Xavier Samin, who was at fault for Nigeria's third goal in Belo Horizonte, was replaced by Mickael Roche, while Edson Lemaire came in for Vincent Simon at left-back.
Spain will qualify for the semi-finals if they win and Nigeria avoid defeat against Uruguay in the day's second group fixture in Salvador later on Thursday.
Starting line-ups in the Confederations Cup Group B match between Spain and Tahiti at Rio de Janeiro's Maracana stadium on Thursday (7 pm GMT kick-off):
Spain
Jose Reina; Cesar Azpilicueta, Sergio Ramos (capt), Raul Albiol, Nacho Monreal; Javi Martinez; David Silva, Juan Mata, Santi Cazorla; Fernando Torres, David Villa
Coach: Vicente del Bosque
Tahiti
Mickael Roche; Ricky Aitamai, Teheivarii Ludivion, Nicolas Vallar (capt), Edson Lemaire; Henri Caroine, Heimano Bourebare, Jonathan Tehau; Alvin Tehau, Marama Vahirua, Steevy Chong Hue
Coach: Eddy Etaeta
Referee: Djamel Haimoudi (ALG)