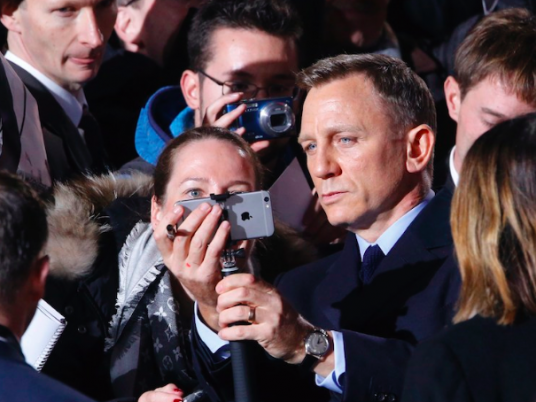 James Bond is back on top, after "Spectre" led the US box office for the second weekend in a row.
Of course, the dashing super spy wasn't exactly facing off against Ernst Stavro Blofeld. Its main competition was the second weekend of "The Peanuts Movie" and a lackluster crop of new releases such as the Chilean mining drama "The 33" and the faith-based football film "My All American."
"Spectre" added US$35.4 million to bring its domestic total to $130.7 million. The weekend represents a 49 percent drop from its opening. Sony is distributing the Metro-Goldwyn-Meyer and Eon Productions' film which carries an enormous $250 million price tag.
"The Peanuts Movie" also showed some impressive endurance, sliding only 45 percent to make $24.2 million. The Fox backed adaptation of Charles Schulz's iconic comic strip about Snoopy and Charlie Brown has earned $82.5 million stateside.
Not even two of the biggest stars in the world could keep "By the Sea" afloat. The European art house influenced look at marital dysfunction featured real life couple Angelina Jolie Pitt and Brad Pitt as a bickering twosome. But the pleasures of voyeurism extend only so far. "By the Sea" grossed a measly $95,440 at 10 sites for a doleful per-screen average of $9,544. Universal, the studio behind the picture, pegs the budget at $10 million, but industry figures believe the cost of the picture is higher, citing its extended shoot in Malta.
Of the new wide releases, CBS Films' holiday-flavored "Love the Coopers" fared best. The ensemble comedy about a family gathering nabbed $8.4 million from 2,603 locations. Distributed in conjunction with Lionsgate, "Love the Coopers" stars Diane Keaton, John Goodman, and Alan Arkin and cost $17 million to produce.
"The 33," a look at a group of trapped Chilean miners, was less fortunate. The drama eked out $5.8 million from 2,452 theaters — a poor showing and less than the $8 million to $10 million it was expected to generate. The film is backed by Alcon Entertainment and distributed by Warner Bros. It cost $25 million to make.
And then there was "My All American," a true story about college football player Freddie Steinmark whose career is derailed due to medical setbacks. The film had hoped to snag the faith-based crowds that made "War Room" and "God's Not Dead" hits, but struggled to complete the play. "My All American" earned a lowly $1.4 million in its debut.
Open Road's expanded release of "Spotlight," a look at the Boston Globe's investigation of the Catholic Church sexual abuse scandal, picked up $1.4 million from 60 theaters for a solid per-screen average of $23,306. Its cume has hit $1.8 million.