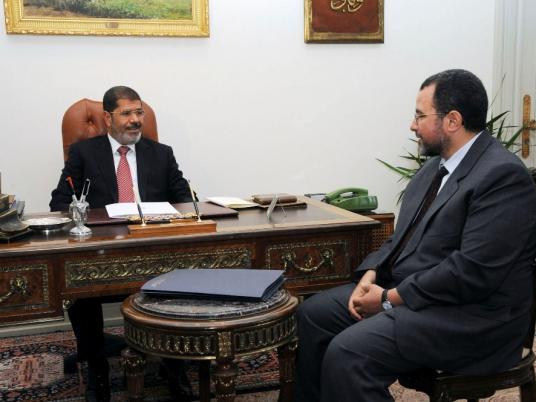 President Mohamed Morsy and former Prime Minister Kamal al-Ganzouri are in negotiations to form a new cabinet, state-owned Al-Gomhurriya newspaper cited an anonymous presidential source as saying.
The negotiations reportedly stalled after Ganzouri set certain conditions for accepting the premiership, according to the source. The conditions included that the cabinet should be immune from dismissal for one year after it takes office and that he be given a free hand with economic issues without intervention from the presidency or the Muslim Brotherhood, the paper reported.
Ganzouri has twice served as prime minister — from December 2011 to August 2012 during the transition government and in the late 1990s under former President Hosni Mubarak.
However, Presidential spokesperson Omar Amer said during a press conference Wednesday that Prime Minister Hesham Qandil would retain his post and the administration would later announce the details of Cabinet-level and gubernatorial changes, several news outlets reported.
Speaking from the presidential palace in Heliopolis, Amer dismissed reports of talks with political figures who might replace Qandil as "mere speculation" and said the presidency would not comment on them, according to state-owned paper Al-Ahram.
London-based Asharq al-Awsat newspaper also cited sources as saying that Morsy is expected to change the Cabinet.
An anonymous source reportedly told the paper Qandil would likely survive the move since Morsy believes he should keep office for the sake of the country's economic stability. The source speculated that the shakeup could include the justice, interior and information ministers. Ten provincial governors could also be on the chopping block for poor performance, the source claimed, naming Monufiya, Aswan, Suez, Port Said and Beni Suef as target areas.
Opposition groups have been calling for the removal of Qandil's entire Cabinet ahead of upcoming parliamentary elections. Islamist parties, including the Freedom and Justice Party, have also lobbied for major changes.