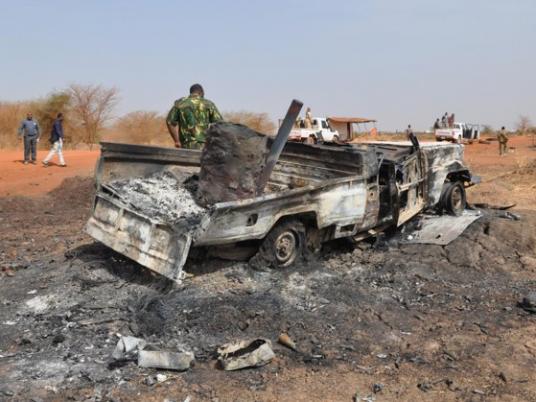 The Sudanese army said it killed 50 rebels in a battle in Sudan's South Kordofan province on Tuesday, although a rebel spokesman said he had no knowledge of the fighting which could complicate ceasefire talks due to resume on Friday.
Khartoum has been fighting an insurgency in the southern provinces of Blue Nile and South Kordofan since 2011, mounted mostly by former civil war fighters who were left in Sudan after South Sudan seceded that year.
Ceasefire talks between the Sudanese government and the Sudan People's Liberation Movement-North (SPLM-North), which began in mid-November in Addis Ababa, were adjourned on Sunday for four days.
On the following day, both the army and rebels reported skirmishes, followed by an army spokesman saying another clash occurred Tuesday.
"The armed forces repulsed an SPLM-North attack on the villages of Balanja and al-Atmour in South Kordofan, killing 50 of them," Colonel Al-Sawarmi Khalid said in a statement.
Rebel spokesman Arno Lodi said he had no knowledge of any fighting, and that if it had occurred, the SPLM-N troops would have been acting in self-defence.
International pressure, military stalemate and looming national elections brought the government and SPLM-North rebels to the negotiating table, and since the talks started under the auspices of the African Union, fighting had decreased.
But the back-to-back clashes dampen hopes for a breakthrough in the negotiations.
"We are optimistic about the possibility of reaching an agreement with the SPLM in the next round of talks," Hussein Karshoum, a member of the government delegation said. The negotiations would resume on Friday, he said.
The rebels have accused the government of using the negotiations as a stalling tactic while they prepare fresh offensives.
Khartoum says the SPLM-N rebels are supported by their former comrades-in-arms in the government of South Sudan, which seceded from Sudan following decades of war, taking with it most of the oil wealth.
Most of the SPLM-North rebels are north Sudanese who fought alongside the Sudan People's Liberation Movement, South Sudan's current governing party, during the civil war that ended in 2005.