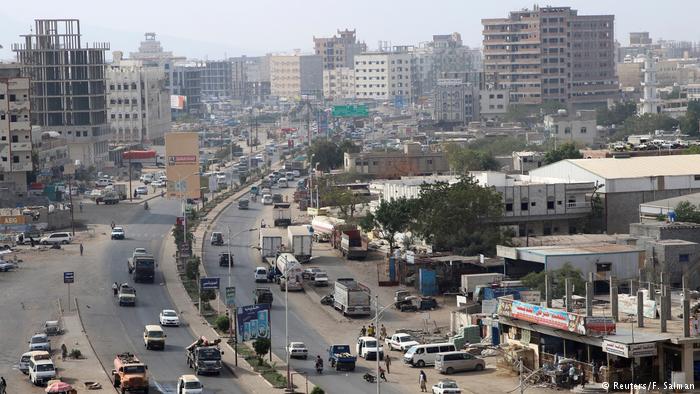 Yemen's de-facto capital Aden has been hit by a twin suicide bomb attack, security officials in the city said on Saturday.
The Reuters news agency reported that dozens of people were killed or wounded in the blasts, which targeted a counter-terrorism camp in the city's Tawahi district that houses suspected militants.
The Associated Press cited security officials as saying that six people were killed and 43 others had been wounded.
Medical officials said those killed included three civilians and three security personnel. They added that the casualties were taken to hospitals for treatment.
Heavy gunfire followed
"The explosions terrified dozens of families living in the area that hurried to the street to look for their children," eyewitness Gamal Mahdi told the AP. He added that the explosions were followed by heavy gunfire.
Other witnesses said that militants tried to storm the camp before detonating the bombs but failed. Photos surfaced following the explosion showing the charred vehicles and clouds of heavy smoke hovering over the area.
Yemen-based freelance reporter and graphic artist, Ahmed Jahaf, posted images to Twitter of the scene following the attack.
Attack claimed by IS
Within a few hours, the "Islamic State" (IS) group claimed responsibility for the bombings through its Amaq news agency, describing two "martyrdom operations" in the city.
Aden has recently witnessed suicide bombings and blasts that target security officials, and which are usually claimed by IS or al-Qaeda, who have exploited the conflict for their own aims.
The southern city has been the temporary seat of Hadi's government since 2014 when Shiite rebels, known as Houthis, seized Yemen's capital Sanaa and forced him into self-exile.
A Saudi Arabia-led military coalition intervened in support of Hadi in March 2015 against the Iran-allied Houthis, in a war that has killed more than 9,200 people and driven the country to the verge of famine.
Saturday's attack was the first of its kind in Aden since January when a group of southern separatists surrounded the presidential palace, attempting to wrest control of the city from Hadi's government.