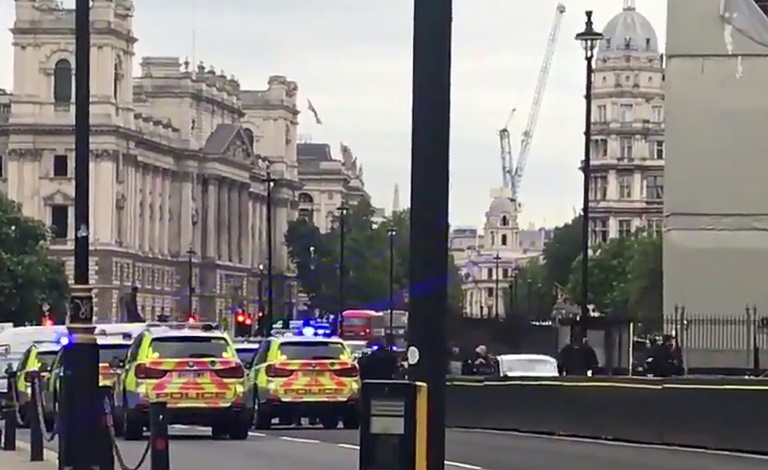 A car crashed into barriers outside Britain's Houses of Parliament in a suspected terror attack on Tuesday, injuring a "number of pedestrians" yards from where five people were killed last year.
Police said they had arrested the driver, in his 20s, and were holding him on suspicion of terrorist offences.
"At this stage, we are treating this as a terrorist incident," said Scotland Yard, adding that none of the injuries are believed to be "life-threatening".
The silver Ford Fiesta collided with a number of cyclists and pedestrians, before crashing into barriers outside the Houses of Parliament at 07:37 (06:36 GMT), said police.
Armed officers swooped in to arrest the driver, removing him from the vehicle at gunpoint.
Later images showed police holding the man, dressed in jeans and a black puffer jacket, in handcuffs as roads and Underground stations around parliament were sealed off.
"The driver of the car, a man in his late 20s… was arrested on suspicion of terrorist offences," said police.
"There was nobody else in the vehicle, which remains at the scene and is being searched. No weapons have been recovered at this stage.
"A number of people were injured," added police.
London Ambulance said they had treated two people at the scene for non-serious injuries and taken them to hospital.
Prime Minister Theresa May tweeted that her "thoughts are with those injured in the incident in Westminster and my thanks to the emergency services for their immediate and courageous response."
Witness Ewalina Ochab told the Press Association that the incident "looked intentional".
"I was walking on the other side. I heard some noise and someone screamed," she said.
"I turned around and I saw a silver car driving very fast close to the railings, maybe even on the pavement.
"I think it looked intentional — the car drove at speed and towards the barriers."
'Loud bang'
Eyewitness Jason Williams, 45, also said that the incident looked deliberate.
"I saw a car going at high speed towards Parliament. It hit a bollard," he told the Press Association.
"It didn't look like an accident. How do you do that by accident? It was a loud bang."
Westminster was the scene of a terror attack last year, when Khalid Masood, a 52-year-old British convert to Islam, drove a car at pedestrians on a bridge over the River Thames, before fatally stabbing a policeman on guard outside parliament.
The attack left five people dead and around 50 injured, and only ended when police shot Masood dead.
Britain endured a tumultuous period following the March 22 rampage, with four further terror attacks within months.
Twenty-two people — including children — were killed when lone suicide attacker Salman Abedi detonated an explosive device at Manchester Arena following a performance by US singer Ariana Grande on May 22.
Eight people were killed on June 3 when a van ploughed into people on London Bridge before the three attackers carried out a knife rampage in Borough Market.
One man died and several others were injured when far-right extremist Darren Osborne rammed his van into Muslim worshippers in north London on June 19.
And 51 people were injured when Ahmed Hassan, 18, planted an explosive device, that partially exploded on an Underground train.