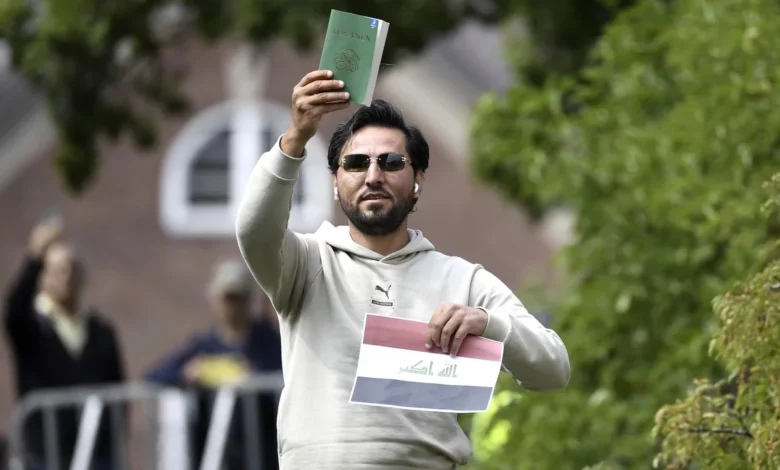 CNN
 —  A spate of
Quran-burning protests
in Sweden and Denmark has caused angry demonstrations in Muslim-majority countries, heightened security fears at home and left both Scandinavian nations questioning whether they need to review their liberal laws on freedom of speech.
Sweden sparked an international spat after allowing a protester to burn a copy of the Quran outside a mosque in Stockholm in June, which coincided with the Muslim holiday of Eid-al-Adha, one of the most significant events in the Islamic calendar – an incident that angered Turkey and jeopardized Sweden's bid to join NATO.
Several Qurans have also been burned outside foreign embassies in the Danish capital Copenhagen over recent weeks.
While some of the protests have been staged by individuals, a number have been carried out by far-right groups that are growing in influence in the two countries.
The Organization of Islamic Cooperation (OIC), which comprises 57 Muslim states, held an emergency meeting on Monday, where it "condemned" Sweden and Denmark for allowing the protests to continue "under the garb of freedom of expression."
The right to freedom of expression has been enshrined in the Swedish and Danish constitutions for centuries. But both countries signaled Sunday that they are exploring legal ways to prevent such protests, amid security and geopolitical concerns.
Swedish Prime Minister Ulf Kristersson said he was in "close dialogue" with his Danish counterpart over the weekend and that the two nations "share the same analysis: The situation is dangerous and measures are needed to strengthen our resilience."
As a result of the protests, the Danish government said that Denmark "is being viewed as a country that facilitates insult and denigration of the cultures, religions, and traditions of other countries." In recent weeks, 15 governments have issued condemnations of Denmark.
Sweden was also condemned after allowing Salwan Momika, an Iraqi Christian immigrant, to burn a copy of the Quran in Stockholm. Momika has staged several such protests in recent months.
The day after that protest, demonstrators broke into the Swedish embassy in Baghdad, demanding the expulsion of the Swedish ambassador to Iraq. Demonstrators had previously clashed with security forces outside the embassy in January for a separate incident of Quran burning in Stockholm.
No blasphemy laws
Sweden and Denmark are among the most liberal, secular countries in the world. Freedom of speech is enshrined in their constitutions and neither nation has blasphemy laws, meaning it is not illegal to insult religion or desecrate religious texts like the Quran.
"Sweden's protection, under the Swedish constitution, for freedom of expression, is the strongest protection in the world – even more so than the first amendment in the United States," Marten Schutlz, a law professor at Stockholm University, told CNN. "Freedom of speech is almost always the first priority in all conflicts of interests or values."
In order for a protest to go ahead, Swedes must apply for a permit from the police under the Public Order Act. The police can only refuse a permit on safety grounds.
When the Swedish police authority attempted to prevent Momika from staging his protest by denying him a permit in February, its decision was overturned by Sweden's Court of Appeal.
"The police are by law only allowed to say no in case of them not being able to guarantee safety at the demonstration itself. They can't take into account the wider political perspective," Sofie Blomback, a political scientist at Mid Sweden University, told CNN.
While freedom of speech has long been a constitutional right in Sweden and Denmark, the scrapping of blasphemy laws was a more recent development. Sweden abolished them in the 1970s, while Denmark ditched such laws in 2017, after they had been on the statute books since the 17th century.
"Religion should not dictate what is allowed and what is forbidden to say publicly. It gives religion a totally unfair priority in society," said Bruno Jerup, a member of Denmark's Parliament, at the time.
Exploring other routes
Under existing laws, neither government is able to legally ban the protests. Instead, both are simply trying to discourage them. Blomback described the Swedish government's stance on the issue as "it's legal, but we don't like it."
In a statement, the Danish government said it "has clearly distanced itself from and condemned the burnings of the holy Quran. The burnings are deeply offensive and reckless acts committed by few individuals. These few individuals do not represent the values the Danish society is built on."
But, over the weekend, both countries signaled that they are exploring legal mechanisms to limit the demonstrations.
"We will find a legal tool that allows us to prevent the Koran burnings in front of foreign embassies," Danish Foreign Minister Lars Lokke Rasmussen said.
Sweden's Kristersson also announced that his government has "already started analyzing the legal situation – including the Public Order Act – with the purpose of exploring the scope for measures that would strengthen our national security."
Both countries have faced crises surrounding freedom of speech before. In 2005, the Danish newspaper Morgenavisen Jyllands-Posten published caricatures of the Prophet Mohammed wearing a turban made out of a bomb, sparking a wave of violence. Swedish cartoonist Lars Vilks was also the object of an attempted attack after publishing similar cartoons of Mohammed in 2007.
But neither country tightened their free speech laws in response to these attacks.
A delicate diplomatic balance
The diplomatic row comes at a precarious moment – for Sweden especially.
"We are currently in the most serious security situation since the Second World War, and as for Sweden, we are aware that states and state-like actors are actively exploiting the situation," Kristersson said in a statement posted Sunday.
Sweden formally applied for NATO membership last year, in response to Russia's invasion of Ukraine. However, its accession to the bloc was for months obstructed by Turkey, which objected to, among other things, what it alleged to be Sweden's complicity in Quran-burning protests.
Turkey finally gave the green-light to Sweden's bid on the eve of NATO's summit in Vilnius in June, although Stockholm cannot formally join the alliance before its membership is ratified by a vote in the Turkish parliament due to be held this fall.
Carl-Oskar Bohlin, Sweden's Civil Defense Minister, claimed in a statement last week that Russian-affiliated actors were attempting to capitalize on the situation.
"Sweden is right now the target of influence campaigns, supported by states and state-like actors, whose purpose is to harm Sweden and Swedish interests," said Bohlin. "These events are then retold in an inaccurate way, sometimes with direct calls to hurt our country."
Bohlin also claimed that "Russia-backed actors are amplifying incorrect statements such as that the Swedish state is behind the desecration of holy scriptures."
"It's a very sensitive time for Sweden because we are trying to become members of NATO, so this has really had an effect on these negotiations," Schulz told CNN.
CNN's Zahid Mahmood, Lindsay Isaac and Mostafa Salem contributed reporting.