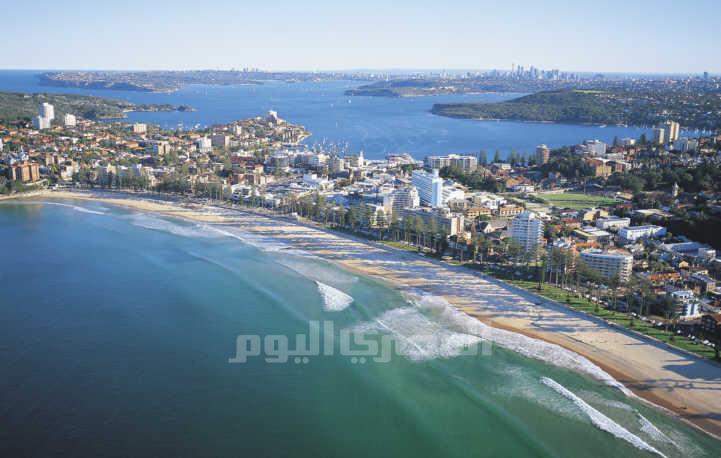 Blessed with wide beaches, beautiful parks, delicious, eclectic cuisine and great outdoor activities, Sydney, Australia is well worth the trip for the adventurous traveler.
The words "Sydney" and "budget" don't necessarily fit together — just the plane ticket from Cairo will cause a serious dent in your pocket. Prices range from LE6,500 up to LE10,000 for an economy ticket via Etihad Airways, EgyptAir, Gulf Air or Singapore Airlines. Your best bet is to check the sites regularly; they occasionally offer cheap deals on weekdays during off-peak seasons.
Once you've managed the harrowing 20-hour flight, your best bet is to find a centrally located hotel if you're planning on moving around a lot — try booking.com. It offers special deals and the user reviews are trustworthy. For an easily accessible area with restaurants, shops, a cinema and access to the major bus routes, stay in Broadway. For a quieter, more picturesque option, Glebe is a beautiful neighborhood full of excellent Asian restaurants and quaint bookshops, just a short walk away from Broadway. If you're okay with roughing it, both the Cooper Lodge Hotel and Glebe Point YHA Hostel offer rooms for under AU$100 per night — you can even find accommodation for under $50 if you're open to staying in a dorm.
Getting around
The city runs on an effective bus route system that hits all the major tourist sites, including the Sydney Opera House and Bondi Beach. All you need is an unlimited weekly bus and train pass for $39, which will also give you access to the ferries at Sydney Harbor and some trains. If you're feeling adventurous, rent a bike for around $30 a day; there's an excellent bike route from Darling Harbor to Sydney Harbor that will show you the sights. The bike route continues around Sydney Harbor to Luna Park, which offers a spectacular view of the harbor and beautiful greenery. It's also highly recommended that you take a ferry from Sydney Harbor — pick any destination — where you'll get to see the picturesque coasts and harbors in the area.
Beach and Bondi
It goes without saying that Bondi Beach is the most famous of Sydney's beaches. Accessible by bus, this wide beach is a big tourist attraction for its surfers and waves. But it also has some amazing street art on its walls. If you're envious of the surfers' moves, several surfing schools give crash courses on surfing at Bondi or nearby beaches. Expect to pay between $50 and $60 per class.
If you're up for a walk, take the beach route from Bondi up to Coogee Beach in the north part of the city. This 45-minute walk will take you along the coast, up and down cliffs, and through many other equally worthy beaches. If you're scared of the ocean or the threat of sharks, Coogee Beach has several ocean rock pools, including Wylie's Baths and McIver's Baths, which are located on cliff faces and use salt water from the ocean. Also worth checking out is Manly Beach: The ferry ride to the beach is great, and it is its own community with surfers, bars and live bands.
Arts, culture and shopping
While Sydney's art scene is admittedly not on par with mega-cities like New York, it does have its share of art, notably at the Museum of Contemporary Art in the Rocks area of the city, a beautiful cobblestone area full of small cafes, shops and outdoor art installations. The Art Gallery NSW is also worth checking out, and is located next to the Botanical Gardens and St. James Park, both of which are great for a picnic on the grass or people-watching at the fountains. The city also has regular visiting art exhibitions. Check out Time Out Sydney for the week's most interesting events.
While Sydney has its share of malls, Elisabeth, Castlereagh and King streets have all the major designer labels, as well as top Australian brands. Oxford Street has the high fashion brands, but it's Newtown that wins hands down for its endless rows of vintage shops, quaint little boutiques and specialty shops.
Dining out
If you're a fan of Asian food, Sydney will have your mouth watering with its diverse and excellent range of quality Thai, Chinese, Korean and Vietnamese restaurants. Madang is a local favorite on Pitt Street that has people lining up around the corner for its authentic Korean barbecue. The kimchee pan-chan and seafood pancakes are excellent choices. Expect to pay around $50 per person for a main course and sides.
In Newtown, you'll be overwhelmed by the number of open-front Asian restaurants with eclectic interiors and trendy patrons. A local favorite is Newtown Thai, a simple restaurant that serves arguably the most delicious pad thai in town, as well as a thick and aromatic green curry. Service is quick, and a meal per person averages around $30 for a starter and main course. For a fancier interior, try Thai Riffic Newtown.
If you're not a fan of Asian food, Baja Cantina in Glebe makes sumptuous California-style Mexican cuisine in a charming and brightly decorated restaurant. Their portions are generous, so you'd better have a large appetite for their burrito grande, enchilada and taco supremo (all under $20). The restaurant's list of mescals and tequilas are also highly recommended.
If you have a sweet tooth, Chocolateria San Churro will be hard to resist. This dessert place offers — as its name alludes — mouthwatering, hot churros served with a side of real chocolate sauce. Ask for a scoop of ice cream on the side, and be sure to try their famous classic Spanish hot chocolate. The venue has several locations in Sydney, including Bondi Beach, Macarthur Square and Glebe. A plate of churros costs under $15.
For breakfast, Naggy's Cafe and Espresso Bar in Glebe offers a simple menu of modern Australian cuisine, including eggs Benedict and poached eggs with smoked salmon on toast. Expect to pay under $20 for breakfast.
Also, be sure to try Sydney's amazing fresh fruits and vegetables from one of its farmers' markets or vegetable stores. Their kiwis, avocados, blueberries and raspberries will have you salivating for many months after.
A trip to Sydney would not be complete without a visit to Harry's Cafe de Wheels. Open since 1945, this famous kiosk is plastered with photos of celebrities sampling the trademark Australian pies, including their chicken and mushroom pie and beef pie with mushy peas. The kiosk's Woolloomooloo location is the closest to the Sydney Opera House.
Out and about
Nights out in Sydney are best when you have an incredible view to enjoy, and Cohibar on Darling Harbor is a perfect location. With a terrace overlooking the harbor and the glittering lights of the city, Cohibar makes excellent cocktails like the Ladykiller and the Zombie (both under $20) as well as smoothly mixed Caipirinhas.
For a breathtaking and revolving view of Sydney, 360 Bar and Dining offers pricey but delicious cocktails and bites, including freshly shucked rock oysters. Located in the Sydney Tower, the bar has an impressive wine list, as well as a selection of cocktails priced at up to $20. The venue offers a cheap lunch deal of $30 if you want the view minus the price tag.
If you're in the mood for dressing up and rubbing shoulders with the cool crowd, the Pool Club at the Ivy is Sydney's answer to Cairo's Tamarai — and it will put Tamarai to shame. With lounge seating arranged around the pool and live music or DJs playing throughout the night, this is a trendy but expensive venue: Expect to pay $20 for a paltry portion of a cocktail. Other trendy nightclub options include the Soho Bar and Lounge, the Establishment and the Argyle Hotel.
Outdoors
Fans of trekking should opt for the Blue Mountains in Katoomba, a quaint town just 90 minutes outside of Sydney. Stay in a bed and breakfast and be ready for hours of trekking and climbing through the lusciously green mountains. If you're not agoraphobic, try the Scenic Cableway, the steepest aerial cable car in Australia. It will take you into the rainforest of the Jamison Valley. The fauna, birdlife and incredible views over the mountains are well worth the trip. Sydney is also a few hours away from the Great Barrier Reef if you're up for spectacular diving spots, and the newspapers are full of cheap flights to Fiji and New Zealand.
Sydney has something for everyone, whether it's low-key dining, taking long walks through its parks or enjoying its urban landscape and art scene. While the whole trip is a hefty investment, it's one of those once-in-a-lifetime opportunities that you should definitely not miss out on.
Helpful links