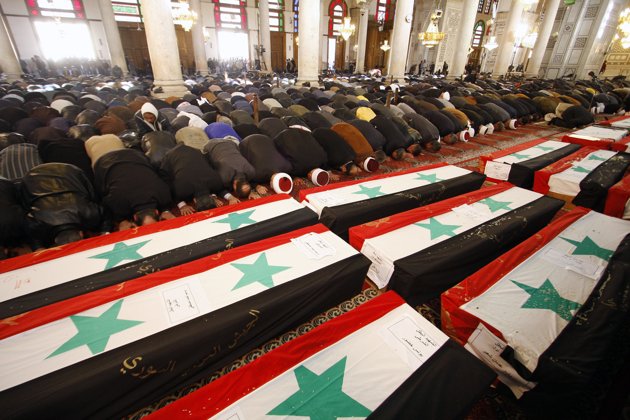 yrian rebels and civilians prepared on Saturday to evacuate the penultimate opposition-held pocket of Eastern Ghouta, as the government moved ever closer to securing the outskirts of the capital.
Eastern Ghouta was once the most significant opposition bastion on the edge of Damascus, but beleaguered rebels are now left with less than 10 percent of their onetime stronghold.
Since February 18, a Russian-backed air and ground assault by Syrian troops brought most of the area under government control, and Damascus is using evacuation deals to clear the last three pockets.
Rebels completed a negotiated withdrawal from one Ghouta town on Friday and a similar deal was reached the same day for Faylaq al-Rahman fighters to pull out of a second pocket.
Talks are ongoing for the third pocket around Ghouta's largest town of Douma.
Under Friday's agreement, rebels and civilians in areas held by Faylaq al-Rahman are to be bussed to opposition-held territory in northwestern Syria.
The evacuations from the towns of Zamalka, Arbin and Ain Tarma had been scheduled to begin at 9 am (0700 GMT) but by late morning, state television said logistical preparations were still underway.
Dozens of fighters, their relatives, and other residents waited out in the open in the bombed-out streets of Arbin, an AFP correspondent reported.
It was the first time in weeks that so many people were seen outside. Relentless shelling and air strikes had made it too dangerous to venture out of basement shelters, even to find food.
Many had their bags already packed in readiness to leave, and ambulances in the nearby town of Zamalka were preparing to transport the sick and wounded.
– Civilian exodus –
The government has been implementing a "leave or die" strategy in the rebel enclave, reducing large areas of its towns to rubble with air strikes and artillery fire but keeping open the offer of evacuation.
The onslaught has killed more than 1,600 civilians, according to the Syrian Observatory for Human Rights.
State news agency SANA said on Saturday that more than 105,000 civilians have fled Ghouta so far.
Once the government had whittled down rebel territory to three isolated pockets, each controlled by a different rebel group, it pursued separate evacuation deals
The first deal brokered by Russia was reached this week with the hardline Islamist group Ahrar al-Sham for the town of Harasta.
More than 4,500 people, including over 1,400 fighters, left Harasta for Idlib, state television reported.
Dozens of buses carrying Harasta evacuees arrived in Idlib province on Friday night and a second batch arrived on Saturday morning.
The second agreement, with Faylaq al-Rahman, provides for the transfer of an estimated 7,000 people to Idlib, including civilians as well as rebel fighters.
The rebels include a number of jihadists from Syria's former Al-Qaeda affiliate who have fought alongside Faylaq al-Rahman.
"We hate the fact that we have to leave Ghouta," said Abu Khaled, a 28-year-old jihadist and native of a nearby town.
"Leaving your home, the place you grew up in your whole life. Why does it have to be like this?" he told AFP in Arbin.
The evacuation deal came after Russian air strikes using "incendiary munitions" killed 37 civilians in Arbin on Thursday, according to the Britain-based Observatory.
Russia has denied using the weapons.
– 'A dream' –
Long a backer of the regime, Moscow played a key role in the negotiations with both Faylaq and Ahrar.
Jaish al-Islam, the faction that holds the last rebel-held pocket in Ghouta, has also opened taks with Russia.
With the conflict grinding on into its eighth year, Syria's government has been more determined than ever to clear rebel holdouts around the capital.
Rebel fighters in Ghouta were in mortar range of Damascus and repeatedly fired rockets into its eastern neighbourhoods.
Residents of the capital had said they were hoping the army's recapture of Ghouta towns would stop the rocket fire.
Student Layal al-Jumaa lives in a Damascus neighbourhood that overlooks Harasta.
On Saturday morning, she woke up after a full night's sleep uninterrupted by bombardment.
"This is the first time in many months that I slept deeply," Jumaa, 24, told AFP.
"I really don't know if this is a dream or real life."
Just hours later, fresh rocket fire hit a sports club in Damascus, killing one child and wounding seven, SANA reported.