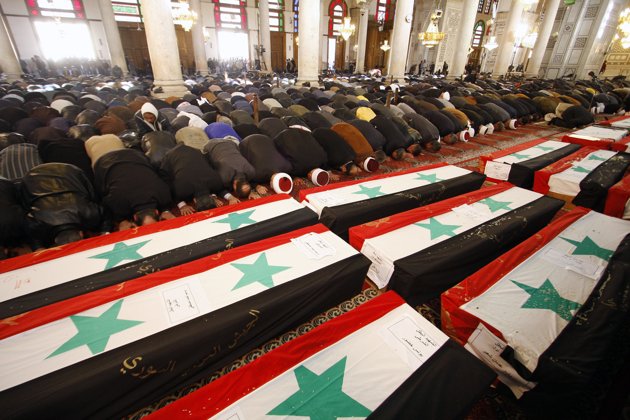 Syria's army said on Monday the Nusra Front and what the army called other terrorist groups had killed 84 people, mostly women and children, in Aleppo during the past three days, in a bombardment that included chemical weapons and rocket fire.
In what many perceived as a PR exercise, the Nusra Front said in July it was breaking allegiance with al-Qaeda, changing its name to Jabhat Fateh al-Sham. It is one of the main rebel groups taking part in an offensive against government-held western Aleppo that began on Friday.
Syrian state media reported on Sunday that militants had fired poison gas at the Hamdaniya district of government-held western Aleppo.
In a statement on Monday, the Army and Armed Forces High Command said rebels had targeted schools and civilians, fired 20 poison gas canisters, 50 Grad rockets and ignited 48 fires.
The Syrian Observatory for Human Rights, a Britain-based war monitor, said it had recorded 48 deaths since the rebel offensive began, including 17 children.
Human rights groups and Western countries have previously accused Syria's army, backed by Russia's air force, of targeting hospitals, bakeries and other civilian areas in their bombardments of rebel areas, including eastern Aleppo.
A U.N. report, attacked by Russia as being based on fabricated evidence, suggested that the Syrian military has used chemical weapons at least twice, something it denies.
Both Russia and the Syrian government say that previous allegations of chemical weapons use by the Syrian military were fabrications by the West aimed at creating the impression that a "red line" had been crossed, thereby justifying further Western military intervention.
Russia says any chemical weapons use in the conflict is on the part of rebels. It points to police raids in Turkey as far back as 2013 that revealed chlorine gas in the possession of terrorists fighting to overthrow Bashar al-Assad.
According to the Syrian government, Western-backed rebels have in the past conducted chemical attacks in civilian areas and then blamed the attacks on Syrian forces, in what they describe as classic "false-flag" operations.
The insurgent offensive against government-held western Aleppo comes more than a month into an operation by the army to retake the city's rebel-held eastern districts, which it had already put under siege.