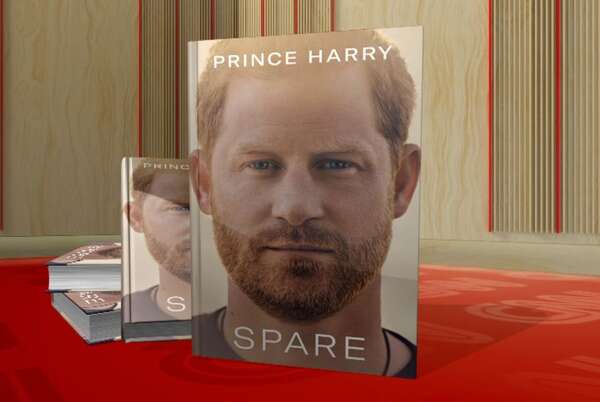 London
CNN
 —  Mere days into 2023 and the British royal family are on the back foot.
With the Duke of Sussex's memoir set to hit booksellers' shelves on January 10, a challenging start to the year was already in the cards. But several days out from publication, multiple media outlets are reporting they have secured copies of Harry's upcoming autobiography, "Spare."
Among the jaw-dropping claims is Harry's reported retelling of a scuffle with his brother, Prince William, in 2019 that left him with "visible injury," according to the UK's Guardian newspaper, which first reported the book's contents.
The alleged confrontation occurred during a heated conversation during which the heir to the throne "grabbed me by the collar" and "knocked me to the floor," and branded Meghan "difficult," "rude" and "abrasive," Harry writes, according to the Guardian extract. Harry also apparently writes that William retreated but later returned "looking regretful, and apologised."
Other reported lines from the soon-to-be released book:
King Charles pleaded with his sons not to "make my final years a misery" when they reunited for Prince Philip's funeral in April 2021.
William and Harry had concerns about their father marrying Camilla, now Queen Consort.
He shared learning of Queen Elizabeth II's death and his final moments with his grandmother.
Harry disclosed the number of Taliban fighters he believes he killed while serving in Afghanistan.
He also admitted to using various drugs as a teenager and called losing his virginity a "humiliating experience."
The Duchess of Sussex upset the Princess of Wales for saying she had "baby brain."
Questions will be asked about the safeguards put in place by publisher Penguin Random House and how the Guardian managed to obtain a copy of the book despite what it described as "stringent pre-launch security." Some other British papers appear to have picked up copies in Spain after it was apparently sold prematurely there by accident.
Precautions should have been on par with those taken for everyone's favorite boy wizard. Not since the release of "Harry Potter" has there been a book publication so hotly anticipated. At the height of Potter-mania, huge lengths were taken to ensure a spoiler-free experience for J.K. Rowling's young readers. Measures included publishing staffers being sworn to secrecy, print-facility employees allegedly allowed only to view parts of the book at one time and retailers signing agreements.
In the UK, several bookstores revealed they are under a strict embargo to avoid jumping the gun ahead of release day, according to Britain's PA Media news agency. Shop owners told PA they expected book deliveries late Monday to avoid copy leaks and one shop confirmed signing a document to ensure the memoir was not put on sale ahead of schedule.
While Prince Harry's tome probably won't spark the same frenzy of eager readers outside shops, the promise of fresh revelations is likely to make it one of the top sellers of a year that has barely started.
Like many other media outlets, CNN had asked for review copies ahead of Tuesday's release. CNN has also reached out to Prince William's office at Kensington Palace, Buckingham Palace and the Sussexes – with all declining to comment on the alleged royal rumble.
Many will ask how the palace can stay silent. But for it to be dragged into a protracted tit-for-tat with estranged family members could be worse. In the vacuum, the monarchy will be forced to weather salacious headlines, knowing that over time they will start to dwindle as the news cycle moves on.
But silence also doesn't solve the palace's immediate problem. Public reaction to the explosive excerpts has been split. On the one side, there is the view that Harry's account will be damaging to the monarchy and undermines the King at a time when he is trying to show how the institution is modernizing. Many have been left wondering if there will come a point when the palace will be compelled to respond. Others, meanwhile, see the latest Sussex salvo as inappropriate and point out that all families have disagreements. Their feeling is that the brothers' bad blood shouldn't be put out there for the world to dissect and that ultimately Harry's approach could backfire on him.
Harry has indicated he would be open to a rapprochement, but it's hard to see how that's possible right now in the midst of this massive royal exposé. What's clear from the leaks is the extent of the duke's anger at being a supplementary heir and being put behind his brother.
Many will be able to sympathize with the sibling rivalry the prince describes and other elements of his experience, but the harsh reality is that the monarchy is by its very nature hierarchical. From the establishment perspective, many will feel that he was afforded an elevated royal role to prevent him feeling like a spare part. Leaving the claims unanswered by the palace means his narrative will become part of our collective memory of the royal family.
What do you think: Does the palace need to respond? Let us know your thoughts by emailing [email protected], along with your name and location and we could feature your responses in next week's edition.
ANNOUNCEMENTS
PR blitz ahead.
To coincide with his memoir's release, the Duke of Sussex is set to appear in a series of television interviews in coming days. Many of the networks involved have touted their upcoming appearances over the past week, so – in case you haven't been able to keep up – here's a rundown of where you can catch Harry:
Sunday, 4 p.m. ET – "Harry: The Interview" with journalist Tom Bradby, broadcast in the UK on ITV.
Sunday, 7.30 p.m. ET – "60 Minutes" interview with Anderson Cooper airs on CBS immediately following coverage of the NFL.
Monday, 7-9 a.m. ET – Prince Harry has also joined "Good Morning America" co-anchor Michael Strahan for a wide-ranging interview. The pre-recorded sit-down will air during the ABC show on Monday morning, followed in the evening by a half-hour special on ABC News Live from 8:30 p.m. ET.
Tuesday, 11:35 p.m. ET – The duke will also make an appearance on "The Late Show with Stephen Colbert" hours after his book is released.
UK newspaper the Telegraph reports that Prince Harry claims to have killed 25 people while serving with the British army in Afghanistan, saying that in the heat of combat he viewed his targets as "chess pieces" rather than people. The Telegraph also said it obtained a copy of the Spanish version of the book ahead of its official release.
The prince completed two tours of Afghanistan, one spanning 2007 to 2008 and the other from 2012 to 2013.
A number of military and security figures have described Prince Harry's remarks as unwise and warned they could jeopardize his safety. The UK's former national security adviser, Kim Darroch, told Sky News he would have advised Harry against making the statements. And Col. Richard Kemp, a retired British army officer, also took issue with Harry's description of Taliban fighters as "chess pieces" removed from the board, telling the same network they "tarnished" his reputation and "unjustly" painted the British Army in a negative light. Read more on this story here.
(CNN's Rob Picheta contributed to this section.)