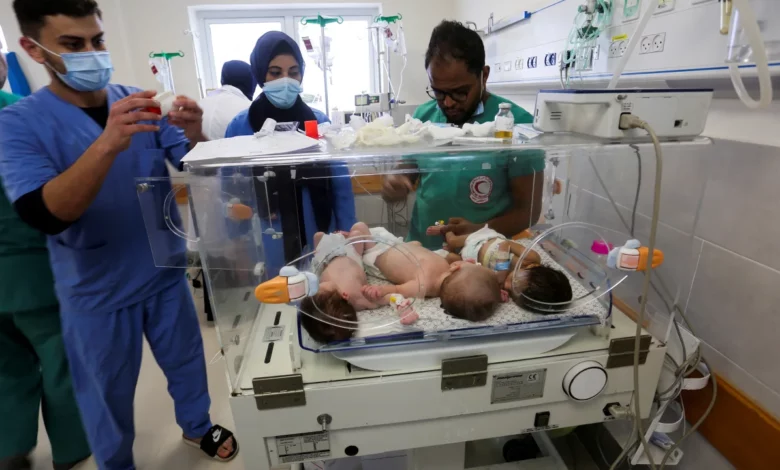 Thirty-one babies were evacuated from Al-Shifa Hospital in Gaza on Sunday, in a high-stakes operation that involved multiple international agencies rushing the newborns in ambulances through active fighting, as fears remain for their survival.
The Palestine Red Crescent Society (PCRS) said it worked with several other organizations to transport the babies to the Al-Helal Al-Emirati Maternity Hospital in southern Gaza, and an Egyptian government source told CNN the babies would be transported to Egypt on Monday.
Al-Shifa, the largest hospital in Gaza, has become a flashpoint in Israel's war in the besieged enclave. The Israeli military alleges the facility is being used by Hamas as a shield for its operations and raided the hospital last Wednesday. Hamas and hospital officials have denied Israel's claims.
Dr. Ahmed Mokhallalati, the head of the hospital's burns unit, accused Israeli forces of pushing around staff, questioning them about Hamas and restricting staff movements after the raid last week.
"The common question (staff keep being asked): Do you know anything about the Hamas groups? Do you know anything about the tunnels within the hospital?" the doctor said.
A joint United Nations humanitarian assessment team visited the hospital for an hour on Saturday and described it as "death zone" with corridors "filled with medical and solid waste," according to a statement from the World Health Organization (WHO).
For days, relentless bombardment near the hospital trapped thousands of staff, patients and civilians sheltering inside, prompting public outcry, especially as details emerged of newborn babies fighting for their lives.
Palestinian authorities said several newborns have died due to power outages and a shortage of medical supplies; hospital staff described having to move babies by hand from incubators after running out of fuel and wrapping them in foil to keep them warm.
The 31 evacuated babies are now in the southern Gazan city of Rafah, which lies on the strip's border with Egypt, near the Rafah crossing that has been used to bring in limited aid and evacuate foreign nationals.
Photos at the Rafah border on Monday showed Egyptian health workers standing beside ambulances and incubators, waiting for the babies to arrive.
It was hoped that the parents of the newborns would be able to travel to safety with their children, but the WHO said very few of the infants were accompanied by family members.
Gazan officials had "limited information" and were not able to find close family members, the WHO said.
One father, Ali Sbeiti, was reunited with his young son Anas, who was born three days before the war began.
"Thank God. We now feel that our son is safe after not seeing him for more than two weeks. We didn't know whether he was dead or alive, especially when communications were disconnected with the doctors," Sbeiti told CNN.
The intense fighting between Israel and Hamas, and a communications blackout across the enclave due to a lack of fuel, has complicated aid delivery efforts and made it more difficult for Palestinians to reach relief services.
The 31 evacuated babies are all fighting serious infections, said the WHO, citing doctors at the Rafah hospital where they are being treated.
Eleven of the babies are in "critical condition," said the WHO, adding that the babies had fallen ill due to the lack of medical supplies at Al-Shifa Hospital.
"We are conducting tests on all those babies, and they were given fluids and needed medication according to their condition," said Dr. Mohammad Salamah, one of the doctors at Al-Helal Al-Emarati Maternity Hospital.
"For now, they are in a difficult, stable condition, but this condition might deteriorate, especially given that we might run out of electricity at any time now as long as fuel doesn't get into Gaza."
On Sunday, UNICEF – which worked with other UN agencies and PCRS to carry out the evacuation – warned that the babies' condition was "rapidly deteriorating."
Their evacuation, during "extremely dangerous conditions," follows the "tragic death of several other babies, and total collapse of all medical services at Al-Shifa," it said in a statement.
WHO Director General Tedros Adhanom Ghebreyesus said on Sunday further missions were being planned to evacuate the remaining patients and staff from Al-Shifa, "pending guarantees of safe passage by parties to the conflict."
This is a developing story and will be updated.
CNN's Martin Goillandeau, Sharon Braithwaite, Eleni Giokos, Sophie Tanno, Hamdi Alkhshali and Oren Liebermann contributed reporting.