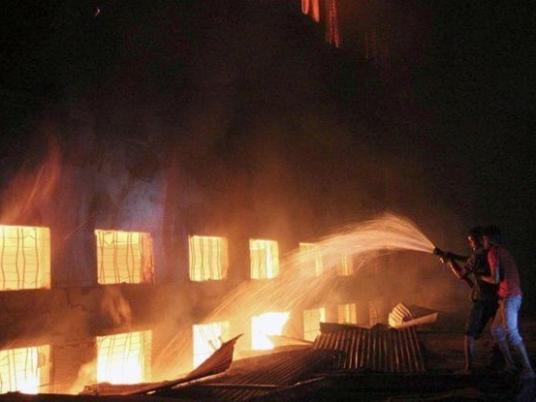 Thousands of angry textile workers demonstrated in the outskirts of Dhaka on Monday after a fire swept through a garment workshop at the weekend, killing more than 100 people in Bangladesh's worst-ever factory blaze.
The fire has put a spotlight on global retailers that source clothes from Bangladesh, where the cost of labor is low — as little as US$37 a month for some workers — and rights groups have called on big-brand firms to sign up to a fire safety program.
A number of top US retailers rushed to deny any relationship with the burned factory, even as critics said the companies needed to do more to enforce standards among their international suppliers.
Demanding that those responsible for the disaster be punished, workers from Tazreen Fashions and residents blocked roads and forced the closure of other factories in the industrial suburb of Ashulia, where the huge fire started on Saturday.
"I haven't been able to find my mother," said one worker, who gave her name as Shahida. "I demand justice, I demand that the owner be arrested."
Police and officials said narrow exits in the nine-story building trapped workers inside, killing 111 people and injuring more than 150.
"This disastrous fire incident was a result of continuing neglect of workers' safety and their welfare," said Amirul Haque Amin, president of Bangladesh's National Garment Workers Federation.
"Whenever a fire or accident occurs, the government sets up an investigation and the authorities — including factory owners — pay out some money and hold out assurances to improve safety standards and working conditions. But they never do it."
Pressure on global firms
Working conditions at Bangladeshi factories are notoriously poor, with little enforcement of safety laws. Overcrowding and locked fire doors are common. More than 300 factories near the capital shut for almost a week this year as workers demanded higher wages and better conditions.
At least 500 people have died in clothing factory accidents in Bangladesh since 2006, according to fire brigade officials.
Bangladesh has about 4,500 garment factories and is the world's biggest exporter of clothing after China, with garments making up 80 percent of its $24 billion annual exports.
The International Labor Rights Forum (ILRF) said that US-based PVH Corp, whose brands include Calvin Klein, Tommy Hilfiger and Van Heusen, entered into an agreement with unions and other rights groups earlier this year to develop a fire safety program in Bangladesh, but others have not signed up.
Gap Inc. said last month it would launch its own safety program after industry peers took too long to negotiate a common set of standards.
"We hope the tragic fire at Tazreen will serve as an urgent call to action for all major brands that rely on Bangladesh's low wages to make a profit," ILRF Executive Director Judy Gearhart said in a statement on Sunday.
"Their voluntary and confidential monitoring programs have failed; now it is time to come together and make a contractual commitment to workers, and to involve workers and their organizations in the solution."
Hong Kong-listed Li & Fung said in a statement it had placed orders for garments from Tazreen Fashions that were being manufactured on the premises where the fire broke out.
It said it would provide relief to victims' families, and carry out its own investigation into what caused the blaze.
The European spokesman for retailer C&A said Tazreen Fashions was due to deliver 220,000 sweatshirts for its Brazilian stores over the coming three months.
He said an independent company normally audits companies and factories for standards and working conditions before C&A enters into a business relationship with them, but the audit of Tazreen Fashions had not yet been carried out.
Consumers unmoved
Given the negative associations with dangerous working conditions, companies rushed to dissociate themselves from the now-ruined factory.
PVH, Nike Inc., Gap, American Eagle Outfitters and France's Carrefour all released statements saying their products were not made in that particular facility. Wal-Mart Stores Inc. said it was still looking into whether its products were made there.
The fire has drawn fresh attention in the United States to working conditions overseas, but it is also not the first time that American shoppers have been confronted with uncomfortable realities about how their consumer goods are made.
Whether the news was about worker suicides at the Foxconn plants in China making Apple Inc.'s iPhones, allegations that Nike used child labor in Indonesia or claims of endemic rape at border factories in Mexico, little has disturbed American shoppers in their search for value.
"(We) know that the consumer sentiment in these markets is not to pay higher prices, so the companies that import are also looking for ways to cut costs, since it is a relationship," said Munir Mashooqullah, founder of New York-based sourcing company Synergies Worldwide.
"If consumers are not willing to pay higher prices, the companies are not willing to pay more in manufacturing," said Mashooqullah, who works with various Western retailers and manufacturers in Bangladesh, Pakistan and India.
Few remember today, for example, the 1993 fire in Thailand that killed 188 people, mostly young rural women seeking a better life, manufacturing toys for top American brands.
An International Labor Organization case study on the fire found that the factory had not been properly fireproofed and that workers in general received inadequate protection.
That fire took the place in the record books of the Triangle Shirtwaist disaster, the 1911 New York conflagration that killed 146 people and led to changes in labor conditions in the American workplace.