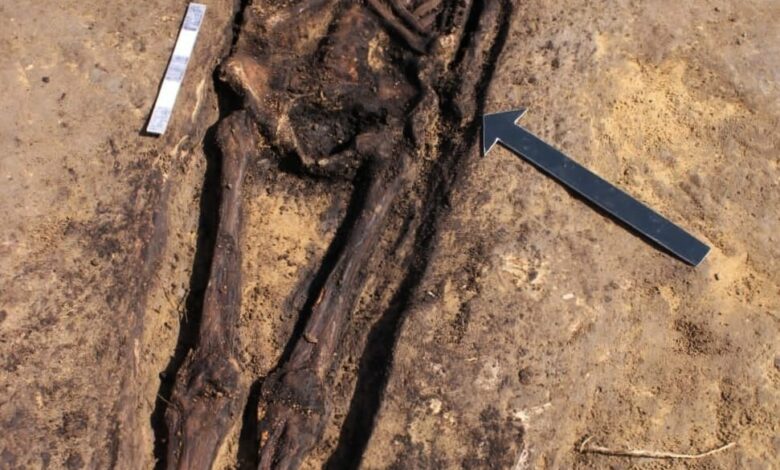 The Egyptian archaeological mission affiliated with the Supreme Council of Antiquities have been working at Tell al-Deir ruins in the new city of Damietta.
Together they discovered 20 tombs dating back to the Late Period of ancient Egypt, while completing the excavation work it is conducting at the site, Secretary General of the Supreme Council of Antiquities, Mostafa Waziri, said.
He also pointed out the importance of this discovery in rewriting the history of Damietta Governorate.
He added that the discovered tombs varied between tombs made of mud bricks and simple pits.
The mud brick tombs may date back to the Sawi era, specifically the 26th Dynasty, as the architectural planning of the discovery tombs was a widespread and well-known model in the late period.
There are also the technical features and pottery vessels discovered inside it, Ayman Ashmawy, head of the Egyptian antiquities sector at the Supreme Council of Antiquities, said.
The mission also discovered golden chips that covered the remains of human burials.
These are embodying the deities Isis, Heqet, and Bastet, as well as the embodiment of the protective eye of Horus (Udjat), and Horus in the form of a falcon while spreading his wings.
Many funerary amulets of different shapes, sizes, and stones, such as scarabs, the headrest, the two feathers of Amun, and many deities: including Isis, Nephthys, Djehuty, and Taweret, were also discovered, Qotb Fawzy, head of the Central Department of Antiquities of Lower Egypt and Sinai and head of the archaeological mission, stated.
The miniature models of canopic vessels for preserving the viscera of the deceased during the mummification process, and statues of the four sons of Horus were also found.
The mission is continuing its excavation work at the site in order to uncover the secrets of the Tell Al-Deir necropolis, Reda Salih, Director of the Damietta Antiquities District, said.
In previous seasons the mission uncovered many burial customs and methods of successive civilizations on the land of Egypt in the Greco-Roman era, at Tel Al-Deir.