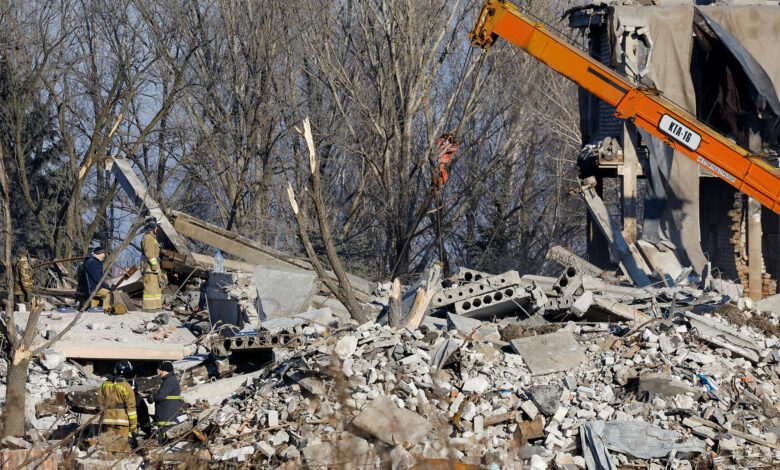 A top Russian military blogger, who just weeks ago received an award from President Vladimir Putin, has cast doubts on Moscow's official death toll from an attack on Russian barracks in occupied eastern Ukraine.
Semyon Pegov, who blogs under the alias "WarGonzo," posted a five-minute video on his Telegram channel Tuesday morning discussing what he called the "Makiivka tragedy."
"Despite the official statement of the Ministry of Defense, the exact number of casualties is still unknown," Pegov said in the video.
"To the degree we can trust our own sources who work at the spot where this tragedy happened, they are still digging up the rubble at this moment. And unfortunately, the number of victims of this tragedy – the HIMARS strike on the quarters of both newly mobilized and the serving military, including National Guard – could be bigger."
In a rare admission, the Russian Ministry of Defense on Monday said that 63 servicemen had been killed in Makiivka when Ukraine used HIMARS missiles to attack a building where Russian soldiers were quartering.
The Ukrainian military claims around 400 Russian soldiers were killed and a further 300 wounded, and says the exact number is "being clarified."
In any case, it would represent one of the deadliest single episodes of the war for Russian forces.
Putin personally awarded Pegov with the "Order of Courage" at the Kremlin on December 20.
Pegov is not alone is casting doubt on Russia's official account.
Igor Girkin, a former official in the Russia-backed Donetsk People's Republic, suggested on Monday that the number of dead and wounded could run into the hundreds.
"There are still no final figures on the number of casualties, as many people are still missing," said Girkin, who was found guilty by a Dutch court of mass murder for his involvement in the downing of Malaysia Airlines Flight 17 over eastern Ukraine in 2014.