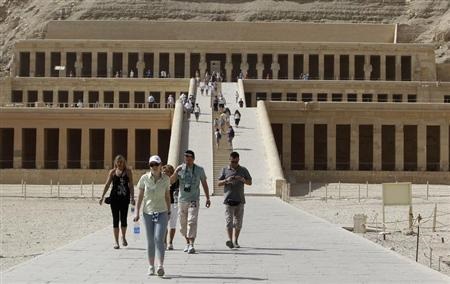 The Egyptian tourism sector has recovered faster than expected in the last two years as security conditions improved, which could raise the number of tourists to the peak of 2010 and generate $5 billion, Capital Economics said in a recent report.
Although this seems unrealistic, it is not unlikely, and if it happens, it will raise tourism revenues by more than $5 billion, equivalent to 2 percent of GDP, the report added.
The restaurants and hotels sector contributed positively to the growth of the economy in the second quarter of last year by about 0.6 percent, compared to its previous negative contribution which amounted to 0.9 percent of the growth of the gross domestic product, according to the report.
The number of tourists in Egypt rose to 11.3 million last year, up by 36 percent compared to 2017, the World Tourism Organization said.
Egyptian tourism recorded in 2010 about 14 million tourists who generated about $12 billion.
The recovery of tourism was supported by  lifting the ban that was imposed on flights to Egypt by European countries after the bombing of a Russian plane over Sinai, as well as the flotation of the Egyptian pound which lost over 50 percent of its value. 
The inauguration of the Grand Egyptian Museum in Cairo is expected to attract tourists as well, according to the report.
The paper linked the recovery of tourism to the security situation.
The report mentioned that Egypt was ranked ninth in the world's most vulnerable countries in terms of terrorist incidents, despite the fact that most of the incidents occurred in North Sinai, which is visited by only a small percentage of tourists.
Hotel occupancy rates are still about 10 percent lower than they were before 2011, the report said, pointing out that the security situation is difficult to predict.