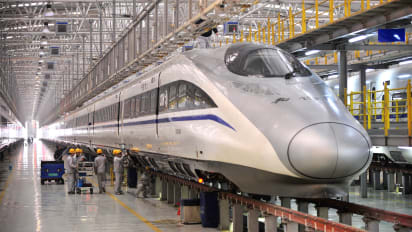 Transport Minister Kamel al-Wazir met with the Chinese ambassador to Cairo, Liao Liqiang, on Thursday to discuss a number of transportation projects between Egypt and China.
The meeting was also attended by the commercial attaché of the Chinese embassy, and the head and leaders of Egypt's National Tunnels Authority.
The two sides discussed the Light Electric Train (LRT) project from al-Salam city to the new Administrative Capital and the 10th of Ramadan City.
Wazir invited the Chinese ambassador for a tour of the project, which is being implemented by the Chinese AFIC / Creek alliance, in order to inspect progress. The project is so far on time.
Wazir said that the project would extend to the Administrative Capital's International Sports City, where it will meet the new high-speed Sokhna-Alamein electric train. The entire length of the track is 103.3 km.
The extended line will serve the residents of the 10th of Ramadan City and help them move easily to the Administrative Capital and Adly Mansour metro station, which connects the project Cairo Metro's third line, he added.
China will provide the financing for the third and fourth phases of the project, according to Wazir.
At the end of the meeting, the officials emphasized that the Chinese side would quickly dispatch the remaining supplies to begin installing and testing the systems, adding that the track will be ready by the end of June.
Egypt will receive three trains from China by the end of July, which will be used in test runs.