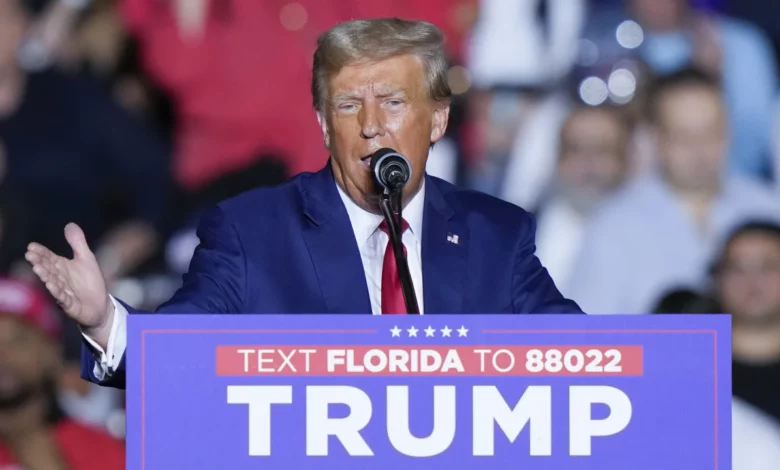 Former President Donald Trump is planning a widespread expansion of his first administration's hardline immigration policies if he is elected to a second term in 2024, including rounding up undocumented immigrants already in the US and placing them in detention camps to await deportation, a source familiar with the plans confirmed to CNN.
The plans, first reported by The New York Times, would necessitate building large camps to house migrants waiting for deportation and tapping federal and local law enforcement to assist with large-scale arrests of undocumented immigrants across the country.
Should Congress refuse to fund the operation, Trump could turn to a tactic used in his first term to secure more funding for a border wall — redirecting funds from the Pentagon, the source confirmed.
News of the proposals comes after Trump at a rally in Florida on Wednesday promised to conduct "the largest domestic deportation operation in American history" and argued criminals were coming through the US-Mexico border and warned of "young, strong people that had bad intentions."
And on Saturday, Trump vowed to sign an executive order, on Day 1 of a potential second term, to cease funding the provision of shelter and transportation for undocumented immigrants, saying at a rally in New Hampshire that he would redirect a portion of the savings toward "shelter and treatment for our own homeless veterans."
He also claimed, without evidence, that President Joe Biden has spent more than $1 million to put undocumented immigrants in "some of the most luxurious hotels in the country."
Trump has escalated his sharp immigration rhetoric in recent weeks. He has publicly said he wants to revive many of his first-term immigration policies to restrict both legal and illegal immigration — including reinstating and expanding a travel ban on predominantly Muslim countries and bringing back a Covid-era policy known as Title 42 to further restrict immigration into the country, though this time it would be based on the assertion that migrants carry other infectious diseases.
Trump's plans would face fierce political and legal challenges.
Stephen Miller, a former senior Trump administration official who led Trump's immigration policy, told The Times, "Any activists who doubt President Trump's resolve in the slightest are making a drastic error: Trump will unleash the vast arsenal of federal powers to implement the most spectacular migration crackdown."
Miller told The Times that Trump's immigration plans are being designed to avoid having to create new substantial legislation. During Trump's first term, he relied heavily on executive orders to implement immigration policy. Many of those moves were challenged in the courts, something Miller acknowledged would be likely to happen again in a second Trump term.
Trump has long planned to install loyal political servants, such as Miller, in positions of power if he wins the 2024 election and wants a team that will not hold him back when it comes to cracking down on immigration, sources familiar with the plans told CNN.
The Biden campaign issued a scathing statement in response to The Times' reporting on Saturday, characterizing Trump's plans as "the horrifying reality that awaits the American people if Donald Trump is allowed anywhere near the Oval Office again."
"These extreme, racist, cruel policies dreamed up by him and his henchman Stephen Miller are meant to stoke fear and divide us, betting a scared and divided nation is how he wins this election," said Ammar Moussa, a spokesman for the Biden-Harris 2024 campaign.
During his recent campaign events, Trump has touted his travel ban on predominantly Muslim countries as "strong" and "powerful."
Last week in Florida, Trump pledged to "terminate all work permits for illegal aliens and demand that Congress send me a bill outlawing all welfare payments to illegal migrants of any kind." The former president also warned of caravans coming from Mexico to the US border, and vowed to prosecute groups and charities that he claimed facilitated large-scale unlawful immigration.