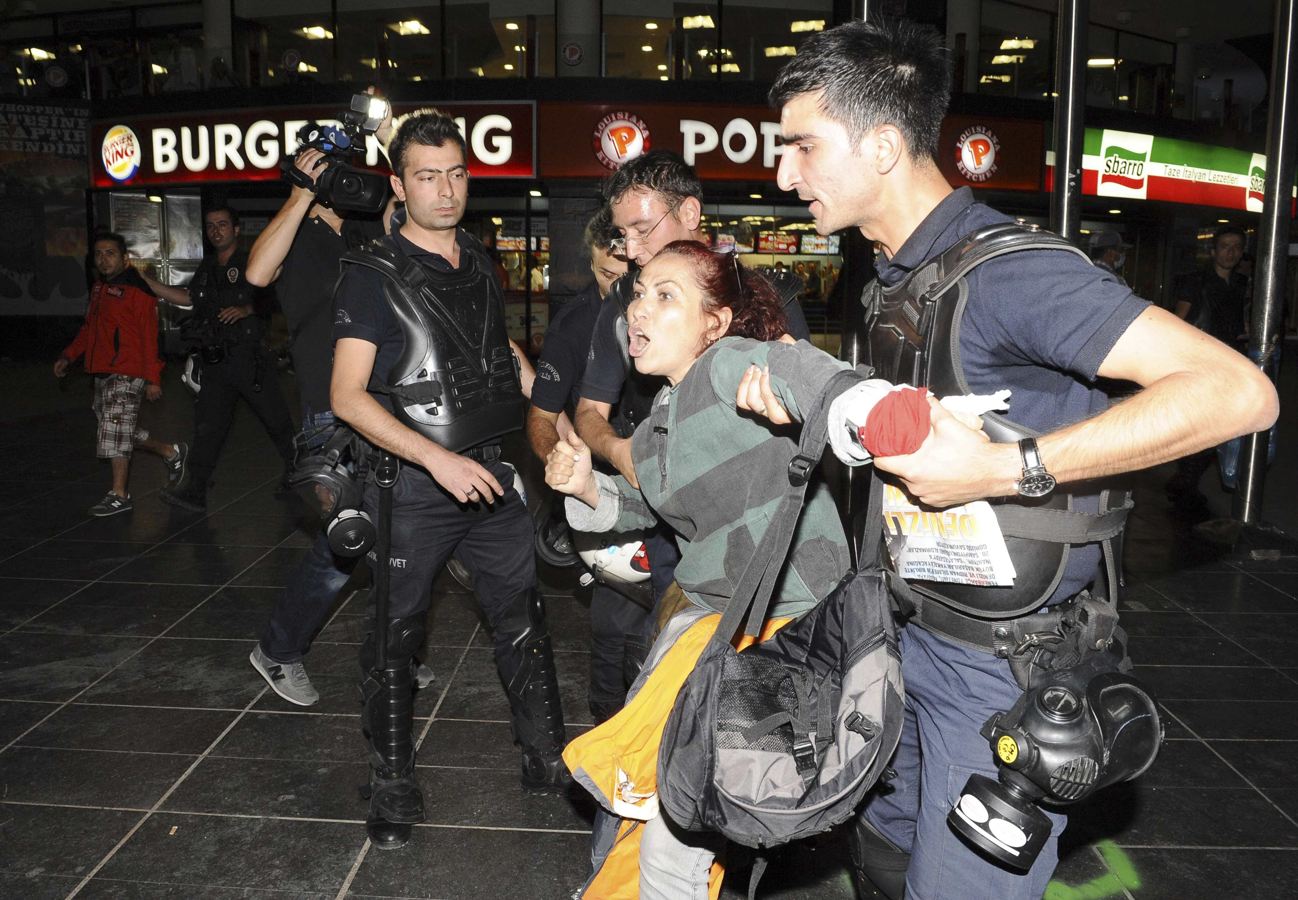 ISTANBUL – Turkey's leaders faced a fourth day of protests on Monday after demonstrators clashed with police firing tear gas, in the biggest outburst of anger at the Islamist-rooted government since it took power more than a decade ago.
A defiant Prime Minister Recep Tayyip Erdogan was due to leave later on Monday on a four-day official trip abroad, underlining his scorn of the protesters and their charges that he had become a dictator.
Istanbul's main Taksim Square, where the protests first erupted, was relatively quiet early Monday as people started the first workday since tensions boiled over on Friday.
But protesters' banners and barriers of scrap metal remained, suggesting they would return to resume days of demonstrations that have by some accounts left hundreds injured around the country.
Overnight, police fired tear gas and water cannons at protesters who marched on Erdogan's offices in Istanbul and in the capital Ankara.
"Dictator, resign!… We will resist until we win," yelled the crowds, who hurled stones and lit fires in the streets.
Erdogan has dismissed the protesters as "a bunch of vandals" though admitting "mistakes" by the police in their initial response.
He was due to leave the country on Monday for a four-day tour of Morocco, Algeria and Tunisia, an official in his office told AFP.
Police had withdrawn on Saturday from Taksim Square, the hub of demonstrations that started over an unpopular building project nearby and boiled over into a general protest against the government.
The flashpoint shifted late Sunday to the Besiktas area north of Taksim, near Erdogan's Istanbul base.
AFP reporters there and in Ankara saw police disperse thousands of demonstrators and incidents continued into early Monday.
Interior Minister Muammer Guler said earlier that more than 1,700 people had been arrested in the unrest nationwide, though most have since been released.
A doctors' union in Ankara said before the latest clashes that more than 400 civilians had been injured there including some with serious head wounds.
Guler estimated the cost at more than 20 million liras (eight million euros, $10 million).
Groups such as Amnesty International and Human Rights Watch have denounced as excessive the police reaction and Turkey's Western allies have appealed for restraint.
The unrest began as a local outcry against plans to redevelop Gezi Park, a rare green spot near Taksim, but after a heavy-handed police response the protests spread to other districts — and then to dozens of cities across Turkey.
Accused by critics of an increasingly conservative and authoritarian agenda in the predominantly Muslim but secular state, Erdogan's government is facing the biggest protests since it took power in 2002.
Erdogan on Sunday renewed his call for an end to the disturbances.
"If you love this country, if you love Istanbul, do not fall for these games," he said in televised comments.
Erdogan's AKP party has won three successive parliamentary elections, winning almost 50 percent of the vote the last time around in 2011.
Foreign Minister Ahmet Davutoglu warned in a Twitter message: "The continuation of these protests… will bring no benefits but will harm the reputation of our country which is admired both in the region and the world."
The prime minister had insisted on Saturday that his government would press ahead with the park redevelopment, although he said it may not include a shopping mall, as protesters fear.
On Sunday however, he confirmed a plan to build a mosque on Taksim Square — a sensitive issue as he faces accusations from critics of trying to impose an Islamic agenda.
Calls for restraint in the protests from Turkey's NATO allies Britain, France and the United States were echoed by the European Union, whose foreign policy chief Catherine Ashton condemned the "disproportionate use of force" by police.
Turkey's southeastern neighbour Iraq warned of the implications for the region.
"Adopting violence will cause it to spread, which will affect the situation in the region," said Prime Minister Nuri al-Maliki in a statement.
Among the government moves to have caused anger is a recent law backed by Erdogan's Justice and Development Party (AKP) which aims to restrict the sale and advertising of alcohol, but Erdogan on Sunday stood firm on the bill, which has been passed by parliament and is awaiting presidential signature.
"Those who drink are alcoholics," he said, before adding: "I don't want to say everyone, but those who drink regularly."