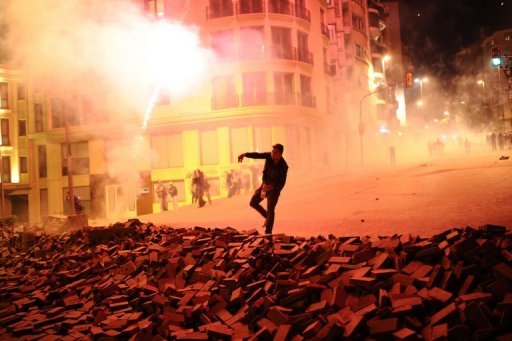 Fresh clashes erupted in Turkey early Wednesday as protesters defied a government plea to end days of unrest, the biggest challenge yet to Prime Minister Recep Tayyip Erdogan's decade-long rule.
Police used tear gas and water cannon on demonstrators who ignored warnings to disperse in several major cities including Istanbul and Ankara.
The new trouble flared after a second major trade union confederation announced it would join protests against the government, calling a strike for Wednesday.
Thousands gathered in Istanbul's main Taksim Square for a sixth day early Wednesday, yelling defiance at Erdogan, who has dismissed the protesters as "extremists" and "vandals".
"The vandals are here! Where is Tayyip?" yelled the crowd.
Deputy Prime Minister Bulent Arinc sought Tuesday to defuse tensions by apologising for the tough police handling of the initial demonstrations, a gesture welcomed by the United States.
But that did not appease outraged demonstrators who have been on the streets since Friday to protest at the policies of Erdogan, seen as increasingly authoritarian figure in Turkey.
They accuse the prime minister, who has won three successive elections, of imposing conservative Islamic reforms on the predominantly Muslim but constitutionally secular nation.
The nationwide turmoil first erupted on Friday after police tear-gassed demonstrators at a peaceful rally against plans to build on a park in Istanbul, one of the world's most visited cities.
On Tuesday, Arinc said sorry to those who had been caught up in the initial violence but called on "responsible citizens" to stop the protests.
"I apologise to those who were subject to violence because of their sensitivity for the environment," he said, but added that his apology excluded "the rioters".
"The government has learnt its lesson from what happened," he added. "We do not have the right and cannot afford to ignore people. Democracies cannot exist without opposition."
He was speaking in the absence of Erdogan, who began a trip to north Africa this week despite the problems at home.
Two people have been killed in the clashes, officials and medics say, and rights groups say thousands have been injured. The government puts the figure at around 300.
The atmosphere in Taksim late Tuesday was initially festive, with Turkish pipe music and singing blaring over speakers and fans from rival football teams linking arms, before police fired tear gas and water cannon.
In the western city of Izmir, police detained at least 25 people for tweeting "misleading and libellous information", the Anatolia news agency reported, after Erdogan accused the microblogging site of spreading "lies".
Protesters, many of them young Turks, rely heavily on social media to organise demonstrations and warn of trouble spots, and have complained bitterly about a lack of coverage of their action in the mainstream media.
The Turkish Confederation of Public Workers' Unions (KESK), which represents 240,000 employees, lent its weight to the protests when it launched a two-day strike on Tuesday.
"The apology is just damage control and only because they know they are stuck," KESK spokesman Baki Cinar told AFP.
On Tuesday, an even bigger union grouping known as DISK and which claims 420,000 members, said it would join the strike and demonstrations on Wednesday.
The United Nations, the United States and other Western partners have voiced concern about reports of heavy-handed police action and called for a full investigation.
"We welcome the deputy prime minister's comments apologising for excessive force, and we continue to welcome calls for these events to be investigated," White House spokesman Jay Carney said.
NATO-member Turkey is a key regional ally for the United States and has backed it notably in opposing President Bashar al-Assad in Syria's civil war.
Sitting at the crossroads of East and West, Turkey has long aspired to join the European Union, which sets strict requirements on human rights standards for prospective members.
Erdogan, whose Justice and Development Party (AKP) first took power in 2002, is often regarded as the most influential leader since Mustafa Kemal Ataturk, the father of modern Turkey.
But opponents accuse him of repressing critics — including journalists, minority Kurds and the military — and of pushing conservative Islamic policies such as religious education reforms and a law curbing the sale of alcohol.
Erdogan told protesters they should wait to express their views in elections next year, when observers expect him to run for president, possibly against his ally and current incumbent Abdullah Gul.
The unrest sent the Istanbul stock market plunging 10 percent on Monday although it recovered by nearly five percent on Tuesday.