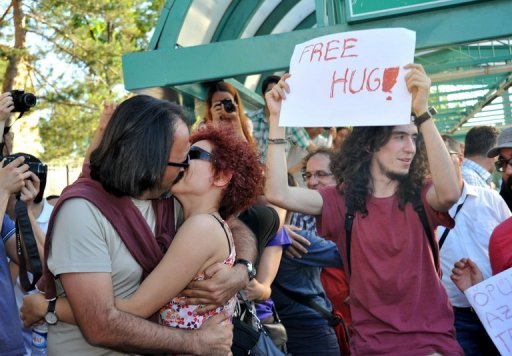 Turkey's top-selling newspaper Zaman plans to continue publishing as an opposition daily in Germany after it was taken over by the state in its home country, the editor-in-chief of Zaman Almanya (Zaman Germany) said on Monday.
Turkish authorities seized control of Zaman on Friday in a widening crackdown against supporters of US-based Muslim cleric Fethullah Gulen, an influential foe of President Tayyip Erdogan. Zaman has been affiliated with Gulen.
"As of today we are printing a version of Zaman that has nothing to do with Zaman there [in Turkey] because it has been forcibly taken over by the state," Sueleyman Bag told Reuters TV in an interview.
Monday's edition of Zaman Almanya bore a black front page with the headline: "The constitution is abolished". That stood in stark contrast to the paper published in Turkey, which on Sunday dropped its criticism of the government and published flattering stories about Erdogan.
"We will print an independent newspaper. We still have not addressed the question of how we do that. This is a new challenge for us," Bag added.
Zaman Almanya currently has 14,300 subscribers to its print edition in Germany, home to three million people of Turkish origin.
The top story on its online edition featured a picture of a veiled woman pressing her hand against her bleeding face outside the newspaper's offices, which were raided on Friday by police who used water cannon and tear gas to disperse protesters.
Rights groups and European officials have criticized the seizure, saying it infringes on press freedom in Turkey, an EU candidate country. Ankara rejects such charges, saying a legal process is underway to investigate illicit financing of what it describes as a "Gulenist terror group".
German politicians have joined the criticism of Turkey's move.
"He who wants to join the European Union must support freedom of expression, freedom of the press and must tolerate criticism," said German Green Party chief Cem Oezdemir, who was born in Germany to Turkish migrants.
But the EU also needs Turkish cooperation to help tackle a migrant crisis which has seen more than one million people, many fleeing wars in the Middle East, pass through Turkey to Europe to seek asylum.
EU and Turkish leaders held an emergency summit on the issue on Monday.