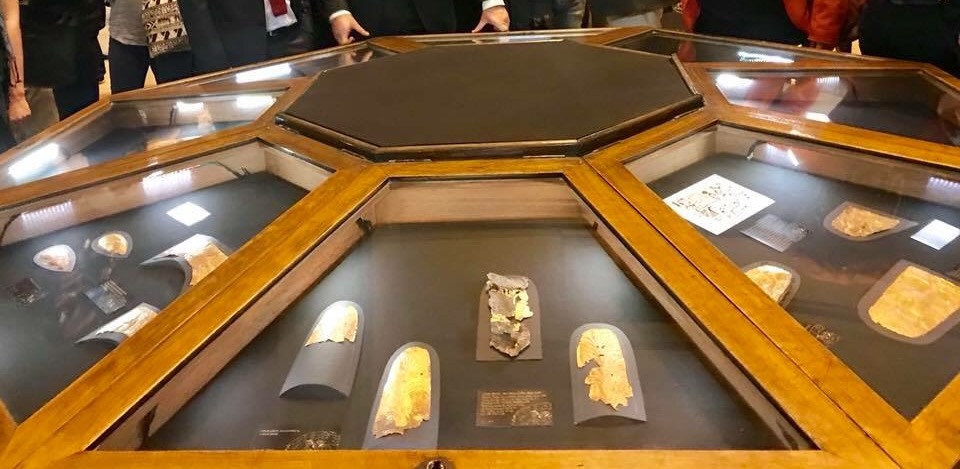 Antiquities Minister, Khaled al-Anany, inaugurated on Wednesday a temporary exhibition at the Egyptian Museum displaying Tutankhamun's golden flakes in public for the first ever time.
The exhibition, dubbed 'Tutankhamun's Unseen Treasures: the Golden Flakes, is part of a joint cooperation effort between the Ministry of Antiquities and the German Archaeological Institute in Cairo, which spans back many years according to the head of the Museums Sector, Elham Salah.
Salah added that the exhibition also comes as the Ministry of Antiquities celebrates its 115th anniversary, and the German Archaeological Institute celebrates its 60th year since reopening.
Christian Eckmann, a German restorer at the Roman-Germanic Museum in Mainz, who contributed to the restoration of King Tut's golden sheets, said that the process of restoring the flakes began in 2014 in cooperation between the Egyptian Museum, the German Archaeological Institute in Cairo, the Roman-Germanic Museum, and the University of Tubingen.
According to Eckmann, the golden sheets have been in a poor state and held at the Egyptian Museum since the discovery of King Tutankhamun's tomb in 1922.
The exhibition is open for 45 days, after which the sheets will be transferred to the Grand Egyptian Museum in al-Remaya Square to be displayed at the partial inauguration of the museum in 2018.