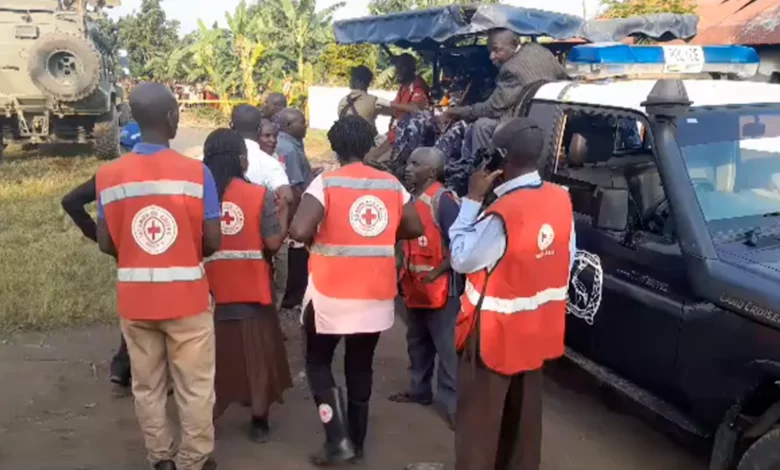 Around 42 people, including 37 students were killed on Friday when members of the Allied Democratic Forces (ADF) rebel group attacked the Lhubirira Secondary School in Mpondwe, hacking some of their victims to death with machetes and setting off fire at the dormitories.
Six other people were abducted, authorities said.
A spokesperson for the Uganda Police Force, Fred Enanga, told CNN on Monday that 20 suspected ADF collaborators had been arrested, but no actual members of the militia group.
The arrests follow authorities' earlier disclosure that the ADF may have spent days planning the attack with the help of local residents in town.
The Lhubirira school is located in the town of Kasese, which sits along the country's border with the Democratic Republic of Congo, with students aged between 13 and 18.
The youngest victim in the Friday attack was just 12 years old, police said.
Grieving families have begun retrieving the bodies of their loved ones from a local morgue for burial, state broadcaster, UBC Television reported Monday.
Ugandan President Yoweri Museveni described the attack as "criminal, desperate, terrorist and futile" in a statement Sunday. He also said he was deploying more troops to the western part of the country and across Uganda's border with the Congo to pursue the assailants.
"Especially now that the Congo Government allowed us to operate on the Congo side also, we have no excuse in not hunting down the ADF terrorists into extinction," Museveni said.
Uganda's security forces have battled to rein in the ADF, which continues to mastermind deadly attacks both in the country and in the Congo, from the mountainous border between both nations.
At least 12 worshipers were killed and around 50 injured when a bomb was detonated by the ADF at a church service in the Congo's North Kivu province in January.
The ISIS-linked ADF was designated as a terrorist organization by the United States in 2021 and was sanctioned by the United Nations in 2014.
CNN's Larry Madowo contributed to this report