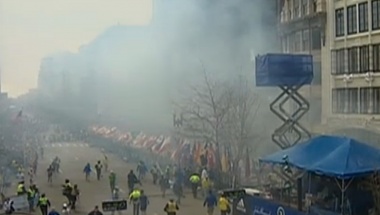 Two explosions struck the Boston Marathon as runners crossed the finish line on Monday, witnesses said, injuring an unknown number of people on what is ordinarily a festive day in the city. Sources say at least two were killed and 23 injured.
The New York Police Department has stepped up security around landmarks in Manhattan, including near prominent hotels, in response to the incident, said Paul Browne, deputy commissioner of the NYPD.



Browne told Reuters that New York police were re-deploying counter-terrorism vehicles around the city.
Police reported at least one explosion and witnesses said there were two, which hit as spectators were cheering on runners finishing the race.
Reporters in the media center heard two blasts.
"There was an explosion. Police, fire and EMS [emergency medical services] are on the scene, we have no indication of how many people are injured," a spokesperson for the Boston Police Department said.
Mike Mitchell of Vancouver, Canada, a runner who had finished the race, said he was looking back at the finish line and saw a "massive explosion."
Smoke rose 15 meters in the air, Mitchell said. People began running and screaming after hearing the noise, Mitchell said.
"Everybody freaked out," Mitchell said.
Television images showed ambulances, fire trucks and dozens of police vehicles near the finish line.
Hundreds of thousands of spectators typically line the 42.19 km race course, with the heaviest crowds near the finish line. The blasts occurred more than five hours after the start of the race, at a time when most top athletes were off the course but slower amateur marathoners were still running.
The transit agency shut down all service to the area, citing police activity.
Ambulances arrived on the scene within minutes and runners and spectators could been crying and consoling each other.