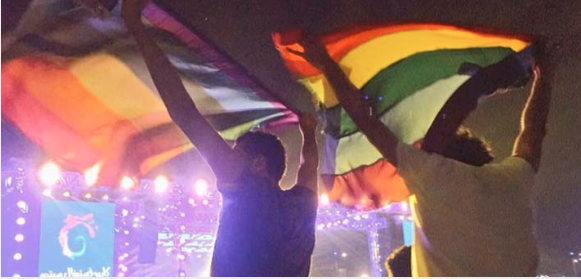 Two people detained in Egypt in October after allegedly waving a rainbow flag, a symbol of same-sex rights, at a concert have been freed on bail, a lawyer representing them and a human rights NGO said on Tuesday.
Sarah Hegazy, 28, and Ahmed Alaa, 21, were released and fined LE 2,000 ($113) each, lawyer Amr Mohamed said.
The Arabic Network for Human Rights Information also reported their release on its Twitter account. It was unclear when their trial would resume.
Hegazy and Alaa were among dozens of people detained in the conservative Muslim country last year on charges that included "promoting sexual deviancy." The crackdown was a response to a rare show of public support for lesbian, gay, bisexual and transgender (LGBT) rights in Egypt.
At a September 22 concert packed with 30,000 people and headlined by Mashrou' Leila, a Lebanese alternative rock band whose lead singer is openly gay, a small group of concertgoers raised a rainbow flag.
Local media said homosexuals were receiving foreign funding, and hosted callers who compared their threat to Islamic State.
Egypt, a key Western ally in the Middle East, has been under fire internationally for its human rights record.
Police, state-aligned media and the religious establishment all regard it as a public duty to combat the spread of homosexuality.