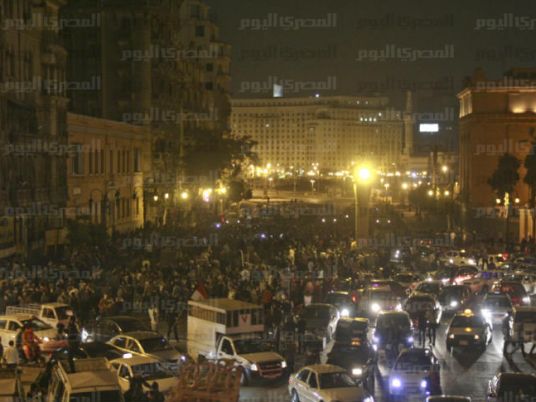 Two people were killed and nine wounded, some of whom are in critical conditions during demonstrations Abdel Moneim Riad Square, yesterday evening, according to Hossam Abdel Ghaffar, spokesman for the Ministry of Health.
Security forces arrested 85 protesters,
after storming Abdel Moneim Riad Square
on Saturday evening during demonstrations against the acquittal of Hosni Mubarak,
according to a Cairo Security Chief Ali al-Demerdash.
Among the arrested are at least four journalists, according to the Hisham Mubarak Law Center's Facebook page, including Arab
Mahab,
editor with Masr al-Arabeya,
Mustafa al-Sayed, photographer from Youm al-Sabaa, and
Mohammed Noor, journalist with A
l-Bawabh News
.
The protesters were dispersed with tear gas and water cannons after some allegedly began throwing rocks from the overpass above. Demonstrators blamed Muslim Brotherhood groups infiltrating the more liberal protesters and stirring violence. Many demonstrators disperrsed into the side streets and police pursued them and began arresting en masse.
Al-Masry Al-Youm earlier reported thousands of protesters turned up to participate in a large demonstration Abdel Moneim Riad Square beside the Egyptian Museum to protest the acquittal passed against former President Hosni Mubarak and former Interior Minister Habib al-Adly.
Demonstrators chanted "down with military rule" and "interior thugs."
The armed forces closed Tahrir Square earlier in the afternoon in response, barricading the entrances with barbed wire, armored trucks and officers in black balaclavas.
Earlier on Saturday, Mubarak and al-Adly were cleared of charges of killing protesters during the 25 January revolution, what in media was called "the trial of the century."
*Correction: The spelling of 'dispersed' was corrected.