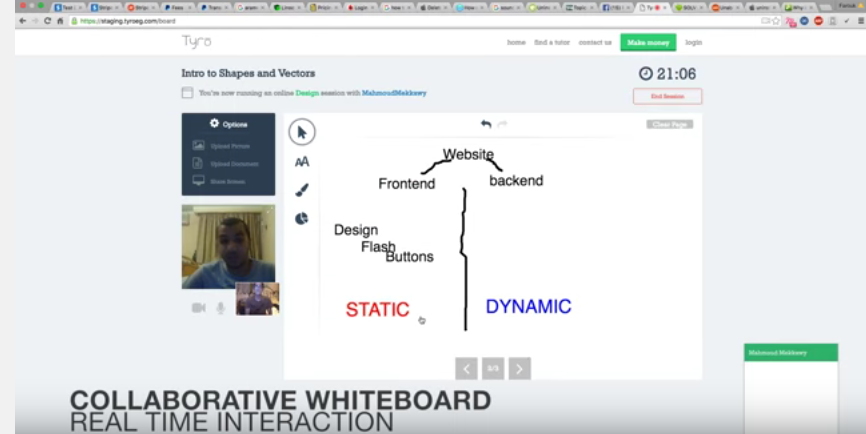 E-learning platform, Tyro, has recognized the high demand for private tutoring and the widening gap between formal educational curriculums and labor market needs. The tech group is working on connecting students with qualified instructors through one on one online sessions, with the aim to revamp the tutoring industry in Egypt.
Tyro launched a beta platform in November last year, tying students with qualified freelance tutors. Students can freely browse through a selection of qualified instructors viewing their skills, certifications, availability, rates as well as reviews.
"We primarily focus on the quality of our tutor pool; all of our tutors must go through a rigorous application and assessment process before they become listed," Mokhtar Ayman, Tyro's founder, said in a statement this month.
The price per session depends on the field of interest, the tutor's experience and rating. Counseling starts at EGP 75 per hour and can get up to EGP 200 per hour, Ayman said.
In October of last year, Egypt's Education minister said that Egypt's school dropout rate was close to 115,000 per year, and a UNICEF report put the number of primary and preparatory school dropouts at 228,000 in 2014.
Egypt's primary education ranked lowest in the world in the latest Global Competitiveness report, with government spending on the sector barely reaching 10 percent in the 2014 fiscal year.
A Population Council survey in 2012 found that only 58 percent of Egyptian university graduates thought what they learned was actually useful in their careers, with families spending an estimated 45 billion Egyptian pounds (US$2.4 billion) a year on private tutoring to help their children pass final examinations.
According to Ayman, the Tyro app will allow students to have a more personalized learning experience and ensure they can better interact with instructors, additionally helping them learn what they actually want.
The app offers tutors in different fields – business, calculus, software development, languages, the statement said, adding that students can also benefit from an international English language assessment test preparation course like IELTS, TOEFL, CFA, SAT.
Salma Ezz, a marketing graduate from the American University in Cairo, is currently prepping for her TOEFL examinations, to get into a masters program she seeks to take  part in next year. However, she believes e learning in Egypt can be "a super slow process."
"It's a good start. But the problem for me isn't in the idea of the start-up, it's Egypt's turtle-like internet connection," she laughed.
"It would take me a whole year to wait for the tutor's video to buffer and benefit from what all those amazing instructors have to offer me. I don't think I'd waste my time on that," she added.
Ibrahim Fareed, a computer engineer echoed Ezz's concern.
"I live in New Cairo, which is an area that is considered well off, yet I struggle to even connect to 3G and maintain good service. I mean I'm all up for new ideas and going digital, but I feel like here in Egypt we still have a long way to go," he said,
Ayman, the founder, agreed, claiming that that old internet infrastructure and Egypt's currency devaluation were indeed challenging Tyro's growth.