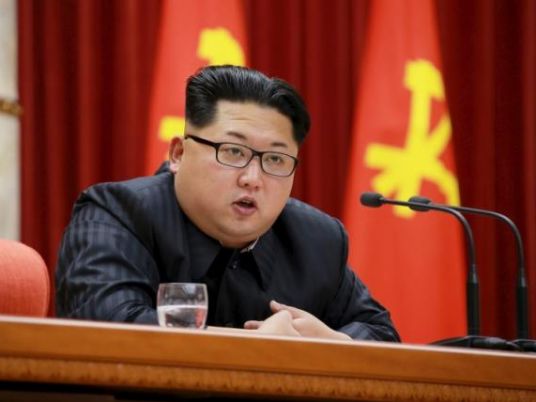 U.S. lawmakers are pushing for a ban on American tourists visiting North Korea.
Two congressmen introduced a bill on Thursday that aims to cut off a source of foreign currency to Kim Jong Un's government and prevent it from detaining more U.S. citizens.
"Tourist travel to North Korea does nothing but provide funds to a tyrannical regime — that will in turn be used to develop weapons to threaten the United States and our allies," Republican Rep. Joe Wilson said in a statement.
"Worse, the regime has routinely imprisoned innocent foreign civilians and used them as bargaining chips to gain credibility with the West."
Known as the North Korea Travel Control Act, the bill would require licenses for any American citizen to travel to the country. Licenses for tourists wouldn't be issued.
The move follows a string of measures in recent months from the U.S., China and other countries aimed at trying to pressure the North Korean regime over its nuclear weapons program.
'Serious risk of arrest'
The State Department strongly warns U.S. citizens against traveling to North Korea, saying they're "at serious risk of arrest and long-term detention under North Korea's system of law enforcement."
At least 16 Americans have been detained there in the past decade, the department says. Four of them continue to be held.
But people still keep going.
Democratic Rep. Adam Schiff, who introduced the bill with Wilson, warned that increased tensions with North Korea heighten the danger that U.S. citizens will be detained for political reasons.
Western tourists far outnumbered by Chinese
If the new bill becomes law, it could be bad news for adventurous Americans seeking to cross North Korea off their bucket list. But it won't have much of an impact on the North Korean economy, which overwhelmingly relies on China.
Wilson noted an increase in trips to the secretive country in recent years by Americans and other Western tourists. But they're dwarfed by the number of Chinese visitors to North Korea.
Koryo Group, a Beijing-based firm that has been running tours to North Korea since 1993, estimates that roughly 100,000 tourists visit the country each year, 95% of whom are Chinese.
Koryo, which claims to be the largest operator of tours dedicated to non-Chinese tourists, says it takes around 2,000 travelers from other countries to North Korea every year, only 20% of whom are American.
"The North Korean weapons program won't grind to a halt as a result of the loss of a few hundred tourists a year," Simon Cockerill, general manager at Koryo, told CNNMoney.
Rowan Beard, a tour manager at Young Pioneer Tours, which also runs trips to North Korea for Western tourists, said a ban on U.S. tourists wouldn't necessarily stop them from visiting the country.
"If the U.S. government does go ahead with banning U.S. tourists to North Korea I feel it would be the same result [as it was for] Cuba a few years ago," he said. "Americans knew they weren't allowed to go but still did."