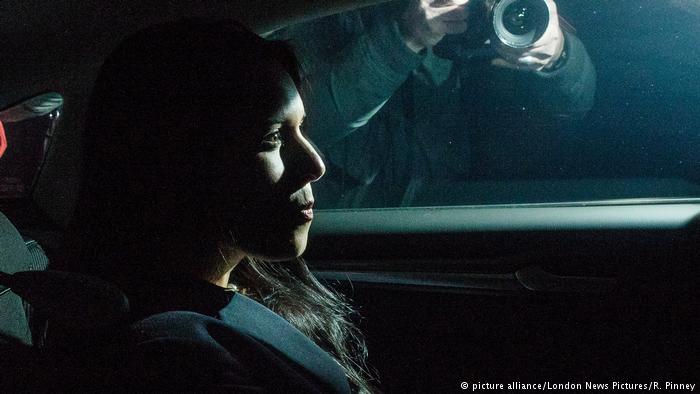 British International Development Secretary Priti Patel has quit her post amid a public outcry over secret meetings with Israeli officials. The scandal deals another blow to Theresa May's increasingly wobbly Cabinet.
The 45-year-old Priti Patel was forced to resign following a meeting with Prime Minister Theresa May at Downing Street on Wednesday, after admitting to unauthorized meetings with top Israeli officials in August.
"I offer a fulsome apology to you and to the government for what has happened and offer my resignation," the international development secretary wrote in a letter to May, becoming the second minister to leave the Cabinet in one week.
Patel said she acted with "the best of intentions" but added that her actions had fallen "below the high standards that are expected" of her position. She also expressed remorse for causing "a distraction" from the work of government.
Accepting the resignation, Theresa May said that she believed it was "right" for Patel to step down. She also said Patel should "take pride" in her accomplishments while in the office and being the first British-Indian Cabinet minister.
It was not immediately clear who would replace the outgoing minister.
Patel has been under pressure since it emerged that she had 12 unauthorized meetings with Israeli officials, including Netanyahu, during a vacation to Israel this summer. The minister was called back to London from Uganda, via Kenya, on Wednesday.
Many segments of the British public had previously called for Patel to be sacked over the scandal. According to the Evening Standard newspaper, some 22,000 people logged into the plane tracking site FlightRadar24 simultaneously to monitor her arrival from Kenya.
Talks about UK helping Israeli army
Patel discussed with Israeli officials the prospect of giving British aid to the Israeli army to provide medical help to Syrian refugees arriving in the Golan Heights. Israel has also provided assistance to wounded Syrian rebels, but it was unclear if that issue was discussed.
All but one of the secret meetings were attended by a lobbyist with the Conservative Friends of Israel, but they were held without Patel telling the prime minister or the foreign ministry.
Israel's Haaretz newspaper reported on Wednesday that Patel visited a field hospital in the Golan Heights, which Britain and other countries consider illegally occupied by Israel since it was captured from Syria in 1967.
Funding the Israeli military in the Golan Heights is "not appropriate," a British minister said in Parliament on Tuesday.
Patel, with her migrant background, was previously hailed as a rising star of the British Conservatives and a future leadership contender. During the Brexit debate, she campaigned in favor of the UK leaving the EU.
She also reiterated this position in her resignation letter on Wednesday. Patel said she has seen "the very best of Britain" and knows it will "flourish on the world stage as we leave the European Union."
Fallon, Patel.. Green?
Patel apologized on Monday for the meetings, saying they "did not accord with the usual procedures."
But it has since emerged that she also met in September with Israeli public security minister Gilad Erdan in London and the director general of Israel's Foreign Ministry, Yuval Rotem, in New York. In both cases she failed to follow protocol and notify other ministers.
Patel also came under criticism after she said Foreign Secretary Boris Johnson "knew about the visit" to Israel, but was then forced to backtrack and admit "the foreign secretary did become aware of the visit, but not in advance of it." She also said her activities in Israel were motivated by her "enthusiasm to engage."
By resigning, Patel becomes the second conservative minister in May's Cabinet to leave in days after Defense Minister Michael Fallon resigned over sexual harassment allegations on November 1.
Meanwhile, May's deputy prime minister, Damian Green, is also under investigation over sexual harassment allegations.
'Stench of death'
The main opposition Labour Party has demanded an investigation into Patel.
"There are times when a government has the stench of death about it," Pat McFadden, a lawmaker from Labour Party, told Parliament on Tuesday.
Prime Minister May has struggled to rally her party and the nation around her, with the UK facing increasingly stressful Brexit negotiations. Two of May's closest aides were forced to resign after May failed to win a Tory majority this summer. With British conservatives still reeling from the vote, the nation was shaken by the deadly Grenfell Tower fire in London, which killed at least 80 people. The prime minister's subsequent bid to reassert authority at the Conservative Party conference was also marred by interruption from a prankster and repeated coughing fits.
The Patel scandal comes after an undercover Al-Jazeera investigation earlier this year into the "Israel Lobby" prompted calls from Labour for an investigation into the Israeli Embassy setting up pro-Israel groups and meddling in the UK's domestic politics.
The scandal forced Israeli Ambassador Mark Regev to issue an apology after the Al-Jazeera investigation showed an Israeli diplomat plotted to "take down" senior Foreign Office Minister Alan Duncan over his support for a Palestinian state.