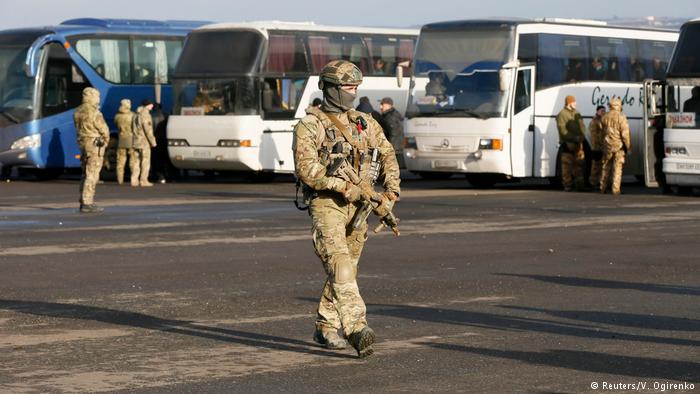 The swap comes after a recommitment to a ceasefire in eastern Ukraine, where over 10,000 people have been killed. A US decision to provide Ukraine with weapons has seen Russia warn the US is encouraging "new bloodshed."
Ukraine and pro-Russian rebels began a landmark prisoner swap on Wednesday, following the recommitment to a ceasefire in the Donbass region of eastern Ukraine last week.
It is the largest such swap since the 2014 outbreak of the insurgency.
During Russian President Vladimir Putin's annual news conference of December 14, he had called on Ukrainian President Petro Poroshenko to complete a prisoner exchange in war-ravaged eastern Ukraine by New Year's Eve.
Following Russia's decision on December 18 to withdraw from the Joint Centre for Control and Coordination, which monitors the ceasefire, German Chancellor Angela Merkel spoke with Putin via telephone. The Kremlin said the pair agreed to have aides draw up a list of conditions to allow the observers' return, including a prisoner swap between the Ukrainian government and pro-Russia rebels.
Also in a phone call with Merkel, Poroshenko said he would work for an exchange of prisoners held by both sides in the conflict, a spokesman for the German chancellor said on Friday.
More than 10,000 people have been killed in fighting between Ukrainian troops and Russia-backed separatists in Ukraine's industrial heartland since 2014. Dozens of prisoners of war are still held captive on both sides of the slow-simmering conflict.
At a meeting with the relatives of hostages, Poroshenko said, "Nothing is more important than to return our people home."
Poroshenko emphasized that the exchange was possible due to the Minsk agreements.
Recommitment to Minsk protocols
The Minsk agreements were put in place to end the war in the Donbass region of Ukraine.
In September 2014, the first Minsk Protocol was signed by representatives of Ukraine, the Russian Federation and rebel groups in Donetsk and Luhansk, but the protocol had collapsed by January 2015 after violations from both sides.
At a summit in Minsk in February, Ukraine and Russia agreed to a new package of measures put forward by then-French president Francois Hollande and Merkel to revive the Minsk Protocol. This was called Minsk II.
On December 20 this year, the signatories to the Minsk agreements made a recommitment to the cease-fire.
Merkel and French President Emmanuel Macron on Saturday urged the warring sides in eastern Ukraine to implement ceasefire agreements amid an uptick in violence.
"There is no alternative to an exclusively peaceful settlement of the conflict," they said in a joint statement, which also reaffirmed their support for the territorial integrity of Ukraine.
Following the ceasefire recommitment, Ertugrul Apakan, chief monitor for the Organization for Security and Cooperation in Europe (OSCE) Special Monitoring Mission to Ukraine, said in a statement, "There is an opportunity to end the violence and human suffering, allowing people to resume their normal everyday lives, especially over the holiday season."
US to provide Ukraine with weapons
The US State Department announced on Friday that Washington had "decided to provide Ukraine enhanced defensive capabilities as part of our effort to help Ukraine build its long-term defence capacity."
Moscow warned on Saturday that Washington was encouraging "new bloodshed" in eastern Ukraine with its decision to provide the country with lethal weapons, while Kyiv expressed the hope that arms supplies could help contain Russia.
Russian Deputy Foreign Minister Sergei Ryabkov accused the United States of "crossing the line" and fomenting the conflict in eastern Ukraine, a region known locally as Donbass.
"Kyiv revanchists are shooting at Donbass every day; they don't want to conduct peace negotiations and dream of doing away with the disobedient population. And the United States has decided to give them weapons to do that," Ryabkov said.
"Today, the United States clearly pushes [Ukrainian authorities] towards new bloodshed," he said, adding: "American weapons can lead to new victims" in the neighboring country.