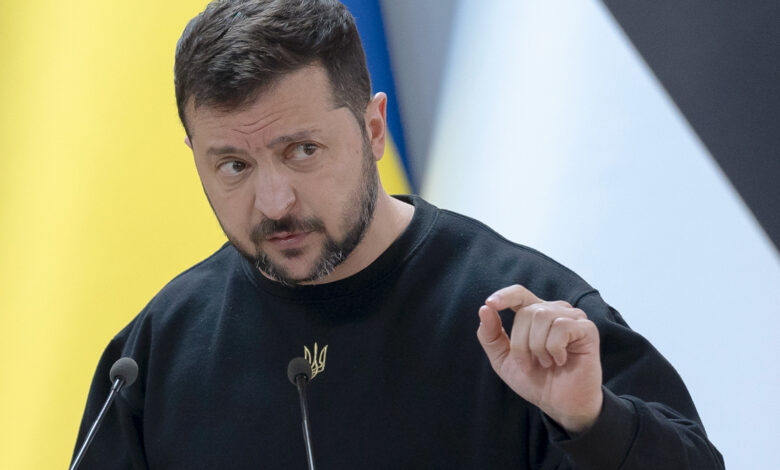 CNN
 —  An alleged informant for
Russia
has been detained in connection to a plot to assassinate Ukrainian President
Volodymyr Zelensky
, the Ukrainian Security Service (SBU) said Monday.
The detained woman has not been named publicly but is from the southern Ukrainian region of Mykolaiv, according to a statement from the SBU.
The SBU said she had been "gathering intelligence" about Zelensky's planned visit to Mykolaiv at the end of July, in order to plan a Russian airstrike to kill the president.
However, SBU agents had obtained information about the "subversive activities of the suspect" and adopted additional security measures, foiling the plot.
The SBU said that it caught the woman "red-handed" as she "was trying to pass intelligence to the invaders."
In monitoring the communications of the woman, the SBU established that she also had the task of identifying the location of electronic warfare systems and warehouses with ammunition of the armed forces.
She allegedly traveled around the territory of the district and filmed the locations of Ukrainian objects.
According to the investigation, the perpetrator was a resident of Ochakov in Mykolaiv region and a former saleswoman in a military store.
'Automatics for everyone'
Zelensky has faced several known attempts on his life since Russia launched its full-scale invasion of his country in February 2022. Russian special forces were tasked with eliminating the Ukrainian president at the start of the war.
In a profile published in April 2022, TIME magazine described how Russian troops had parachuted into Kyiv to kill or capture Zelensky and his family on February 24, the day after the war began.
As Ukrainian forces fought Russians on the streets of Kyiv, the presidential guard tried to seal the compound using police barricades and piles of plywood, TIME reported.
Oleksiy Arestovych, a military intelligence veteran, said rifles and bulletproof vests were handed out to Zelensky and about a dozen aides as Russian troops made two attempts to storm the presidential compound.
"It was an absolute madhouse," Arestovych told TIME. "Automatics for everyone."
Zelensky ignored his bodyguards' advice to flee the compound, and also refused the offers of British and American forces to evacuate him. He responded with the famous line: "I need ammo, not a ride."
Later Zelensky walked outside the compound to film a defiant video message on his phone as Ukrainian troops battled Russians in nearby streets.
Several more attempts
Ukrainian presidential adviser Mykhailo Podolyak said in March last year that Zelensky had survived more than a dozen assassination attempts.
"Foreign sources talk of two or three attempts. I believe that there have been more than a dozen such attempts. We are constantly receiving intelligence that there are certain reconnaissance groups trying to enter government quarters and the like," Podolyak was quoted in Ukrainska Pravda as saying.
"Western intelligence correctly states that the main target for Putin was Zelensky in terms of attacking government quarters and attempting to kill the country's key leader," he added.
In an interview with CNN in July, shortly before this alleged assassination attempt, Zelensky spoke about living in the knowledge that his death remains a priority for Russian forces.
"I'll be honest with you, and tell you I've decided, if I will be thinking about it constantly, I will just shut myself down. Very much like Putin now, who doesn't leave his bunker," said Zelensky.
Zelensky also said he believes it is important that Ukrainians living under and attempting to repel the Russian invasion see that their president also faces threats.
"If I will isolate myself, I won't understand what's going on around me in the country. I will lose the connection with society. And if I lose this connection, we would lose the society. I'm convinced that society has to see if they are at risk, their President is at risk, too – together, with them," he said.
"Of course, they understand that I have protection, etc., but I have to be on the same side with my people. You know you can get yourself into a cage like an animal and chain yourself there constantly, thinking that you are just about to get killed."
Zelensky said that he leaves the question of his personal security "to the professionals," allowing him to "free (his) mind to resolve the strategic issues."