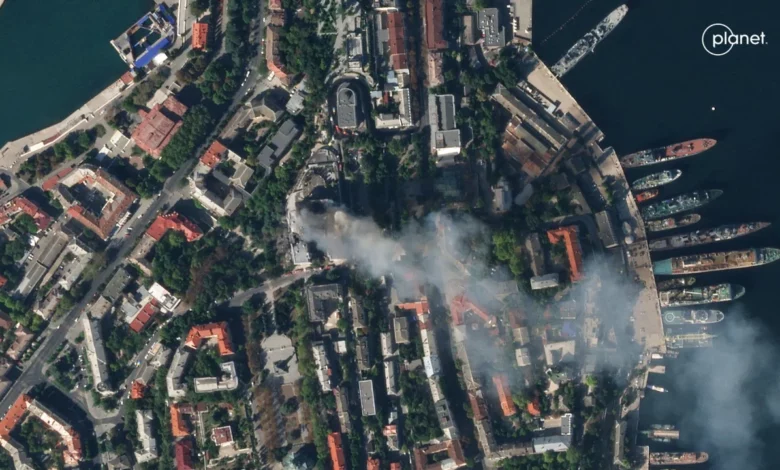 CNN
 — 
Ukraine
said Saturday its bold strike on Russia's Black Sea Fleet headquarters in the Crimean city of Sevastopol had left dozens dead and wounded "including senior leadership."
The attack on Friday is perhaps the most dramatic example yet of the confidence with which Ukraine is going after Russian facilities in occupied Crimea – and shows the vulnerability of critically important infrastructure on the peninsula.
In a statement on Telegram, Ukraine's Special Operations Forces said a special op dubbed "Crab Trap" was timed to strike while senior members of Russia's Navy were meeting, and that the attack left dozens of dead and wounded "including the senior leadership of the fleet." No names have been given and CNN has not independently verified the claim.
Sevastopol is the largest city in Crimea, which was illegally annexed by Russia in 2014. Ukraine has not given up hope of reclaiming it.
"The daring and painstaking work of the Special Operations Forces enabled them to hit the Black Sea Fleet headquarters 'on time and with precision' while the Russian Navy's senior staff was meeting in the temporarily occupied city of Sevastopol," it said in the statement.
"The data was transmitted to the Air Force for strike. The details of the attack will be revealed once it is possible. The result is dozens of dead and wounded occupiers, including the senior leadership of the fleet," the statement read.
It added, "We are moving further!"
Attacks have strategic and symbolic importance
No further details or any evidence as to specific casualties among Russia's Black Sea Fleet have so far been provided by Ukraine.
Russia's Ministry of Defense has to date only said that a Russian soldier was missing after Friday's missile attack, which local authorities said left the naval HQ damaged scattered debris hundreds of meters away.
The incident was the latest in a string of attacks targeting Russian facilities in Crimea.
The Ukrainians have hit a Russian military airfield at Saky, degraded Russian air defenses on the north-west coast, and carried out a missile attack on the main dry-dock and ship-repair facility in Sevastopol, crippling an attack submarine and a landing ship.
The attack on Saky caused unspecified but "serious damage" at the airfield, according to sources in Ukraine's Security Services (SBU).
In the wake of Friday's attack, Ukraine's Secretary of the National Security and Defense Council Oleksii Danilov warned that the Russian Black Sea Fleet could be "sliced up like a salami" in potential future strikes.
There are plenty of reasons for Ukraine to target Crimea. It's politically a sign that despite the slow progress on the front lines in its counteroffensive, Ukraine can still inflict serious damage on the Russian military. Targets such as the Crimea bridge have considerable symbolic value as well as strategic purpose.
It's also part of a broader effort – in Crimea, Zaporizhzhia, Donetsk and Luhansk – to hit Russian logistics, fuel, maintenance and command centers, in order to disrupt their ability to supply the front lines.