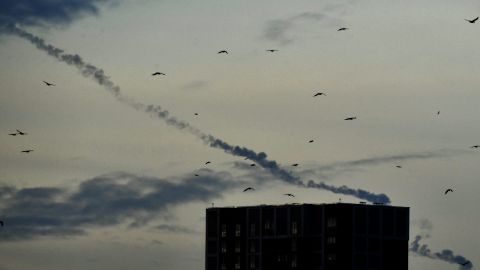 Ukrainian air defense forces shot down 16 Iranian-made Shahed drones overnight through Friday, the Air Force Command of the Ukrainian Armed Forces said.
The attacks come a day after Russia launched one of the largest missile barrages against Ukraine since the war began.
The drones "attacked Ukraine from the southeastern and northern directions. To overcome the air defense system of Ukraine, the enemy tried to use the Dnipro riverbed," the the Air Force Command statement said.
"All 16 kamikaze drones were destroyed by the forces and equipment of the "Skhid" (East) and "Center" air commands, as well as air defense units of other units of the Ukrainian Defense Forces."
Five drones were shot down over the capital Kyiv in the early hours of Friday, the city's military administration said in a Telegram post.
Kyiv Mayor Vitali Klitschko added in a Telegram post that two other drones were shot down outside the city, bringing the total shot over the Kyiv region to seven.