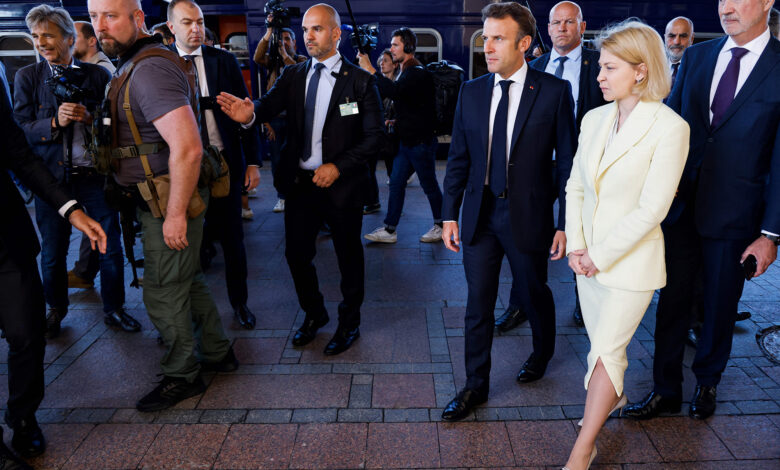 Ukraine's Deputy Prime Minister said she is not expecting "bright announcements" from a visit by the French, Italian and German leaders to Ukraine.
Deputy Prime Minister Iryna Vereshchuk was speaking to journalists on a train platform in Kyiv as she welcomed the three leaders on Thursday.
"I'm not sure there will be bright announcements following the meeting but regardless how it will end, it will be a historical meeting which would either pave the way to a stronger Europe or to a stronger Ukraine," she said.
"That three European leaders have come to Ukraine right in the middle of total war, it's a great signal that strengthens Ukraine and Europe."
Vereshchuk said there are "two important questions" to put to the leaders.
"How to put an end to the war and how to turn a new page for Ukraine and open the way for Ukraine into the European Union," she said.
Some context: The EU Commission is expected to offer its opinion on Friday that Ukraine should be considered a candidate state. It will then be for the 27 EU member states to decide whether or not they agree with the Commission's opinion.
While most European nations are firmly behind Ukraine and have, to varying degrees, aided the country's war efforts, it's far from certain that they will back its bid for EU membership.
The question of whether or not Ukraine should join the EU and how Russia would react has been a contentious issue for years. In 2013, pro-European protests erupted after former Ukrainian president Viktor Yanukovych made a sudden decision to not sign an agreement with the EU that would pull Ukraine further into the EU's orbit. Instead, he opted to pursue closer ties with Putin's Russia. The following year, Russia invaded Donbas and illegally annexed Crimea.