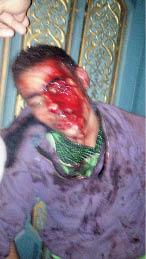 The United Nations in Egypt is deeply concerned by recent developments in the case of Soheir El-Batei, the victim of Female Genital Mutilation (FGM) who died in June 2013, as a result of an illegal procedure, it said in a statement on Thursday.
"The misdemeanor court in the district of Aga, Dakahlia Governorate, dismissed the case today, following a settlement between the victim's family and the accused," the statement explained.
The court acquitted a male doctor Thursday of carrying out female circumcision that killed a teenager, in the first case brought since the procedure was banned in 2008, AFP reported.
The court also acquitted the 14-year-old's father who took her to the doctor for the operation.
This was the first trial since the a law was passed criminalizing FGM in 2008.
The settlement prevented the court from deciding on the guilt of the accused, U.N. said. However, under existing legislation, there is no provision to prohibit such a settlement, resulting in the charges being dropped, it added.
According to the 2008 Demographic and Health survey, at least 91 percent of Egyptian women between the ages of 15-49 have undergone female genital mutilation.
Despite the ban, FGM is still widespread in Egypt, especially in rural and poor areas and is practised among minority Christians as well as Muslims according to AFP.
FGM involves the removal of the clitoris and, sometimes, even more extreme mutilation, in a bid to control women's sexuality , according to AFP.
The UN pointed out that Thursday marks the 25th anniversary of the United Nations Convention on the Rights of the Child. The United Nations said it is committed to protecting the rights of all girls and women, including against the practice of FGM.
"There is no moral, religious or health reason to cut or mutilate any girl or woman. Traditions that demean, dehumanize and injure are human rights violations that must be actively opposed until they are ended."
The United Nations encourages the review of current legislation to ensure that it fully protects the rights of women and girls and that the perpetrators of such heinous crimes are brought to justice.