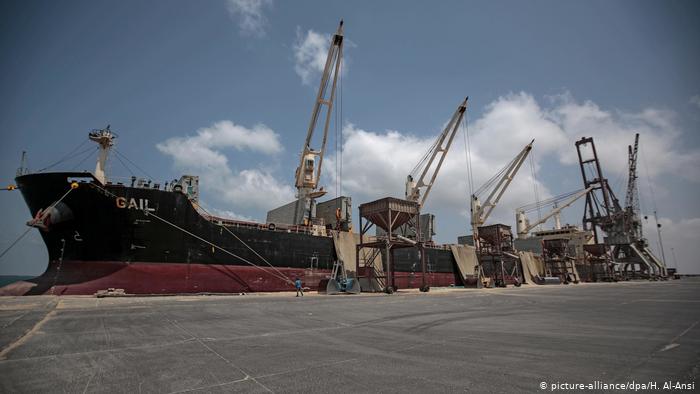 Yemen's warring sides had agreed on a "mechanism and new measures to reinforce the ceasefire and deescalation," announced the UN on Monday after talks convened by former Danish general Michael Lollesgaard.
Under a truce agreement reached in Stockholm last December, all factions were supposed to have withdrawn from Hodeida within two weeks.
In May, Yemen's government — backed by a Saudi-led military coalition — accused Iran-aligned Houthi militias of faking pullouts staged at Hodeida and two other ports by merely handing control over to allies.
On Sunday, representatives were picked up at different locations by a UN ship for the talks — the first meeting between the factions since February.
The maritime encounter was confirmed by Wadah Dabish, a spokesman for Yemeni government forces.
Reducing hostilities 'as soon as possible'
The UN statement said both sides were keen to reduce hostilities around Hodeidah "as soon as possible."
Still pending, said the UN, was agreement between political leaders on "local security forces, local authority and revenues."
The UN statement did not elaborate.
UN extends observer mission
At the United Nations in New York almost simultaneously on Monday the UN Security Council voted unanimously to extend its ceasefire observation mission for Hodeida by six months, until January 2020.
The council's resolution called for full deployment of a contingent of observers, which was mandated for 75 staff but currently has only 20 on the ground.
Last month, Houthi rebels balked at providing visas for UN observers stationed on ships off the coast.
World's worst humanitarian disaster
Deescalation in Hodeida should enable distribution of desperately needed food and medical aid to millions of Yemenis in what the UN has described as the world's worst humanitarian crisis.
Hodeida, as Yemen's main port, is also strategically important for trade.
Yemen's warfare — begun in 2015 during a Saudi-led military intervention in support of Yemen's government — had claimed at least 91,600 lives, said the armed conflict database ACLED last month.#
It receives funding from the Dutch Ministry of Foreign Affairs and the US State Department. Its numbers do not include victims of humanitarian deprivations caused by the war.
The fighting has displaced millions and left 24 million — two thirds of Yemen's population — dependent on aid.
ipj/ng (dpa, Reuters, AP, AFP)