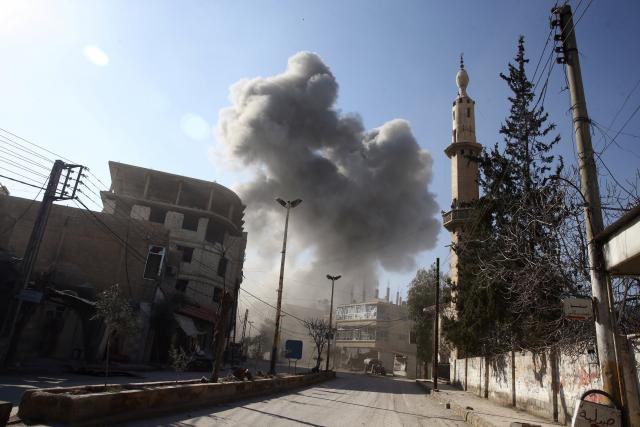 Warplanes pounded the last rebel enclave near the Syrian capital for a fifth straight day on Thursday, as the United Nations pleaded for a truce to halt one of the fiercest air assaults of the seven-year civil and prevent a "massacre."
More than 300 people have been killed in the rural eastern Ghouta district on the outskirts of Damascus since Sunday night, and many hundreds have been wounded, according to human rights monitors and aid agencies who say Russian and Syrian planes have struck hospitals and other civilian targets.
In the north, where Turkey launched an offensive in the past month against a Kurdish militia, the Kurds said pro-government fighters were now deploying to the front lines to help repel the Turkish advance. Government forces also entered a part of Aleppo controlled by the Kurdish YPG militia, a witness and a monitor group said, although the YPG denied this.
The Kurdish YPG – allies with the United States in other parts of Syria – have sought assistance in recent days from the Russian-backed government to resist the Turkish offensive, an example of the unexpected alliances wrought during a multi-sided conflict that has drawn in neighbors and world powers.
International attention is now focused on the humanitarian plight in the eastern Ghouta, where 400,000 people have been under siege for years and where government bombardment escalated sharply on Sunday, causing mass civilian casualties.