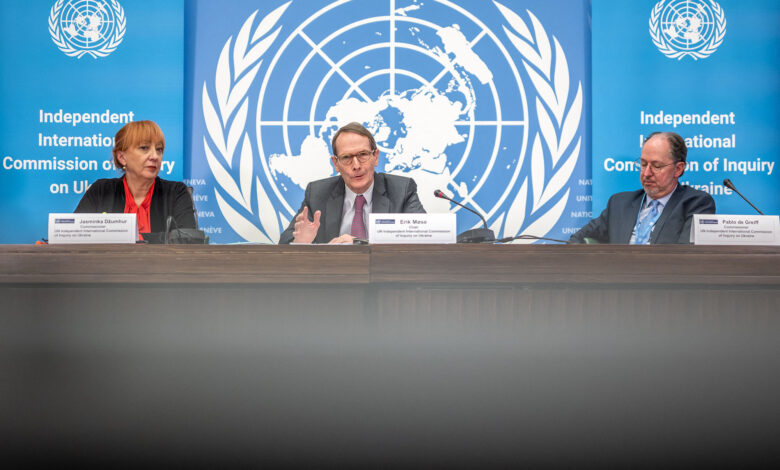 The Kremlin has brushed off Poland and Slovakia's donations of fighter jets to Ukraine, and accused NATO of increasing its involvement in the warcommitted abuses and atrocities that likely amount to war crimes and crimes against humanity.
"The Commission has concluded that Russian armed forces have carried out attacks with explosive weapons in populated areas with an apparent disregard for civilian harm and suffering," it said, adding that the country's attacks on Ukraine's energy infrastructure and authorities' use of torture "may amount to crimes against humanity."
While the bulk of the evidence gathered concerned the conduct of Russian forces, the commission said it had also documented "a small number of violations committed by Ukrainian armed forces, including likely indiscriminate attacks and two incidents that qualify as war crimes."
The report's findings include:
Russian authorities have committed unlawful transfers and deportations of civilians, including children, and of other protected persons within Ukraine or to the Russian Federation, respectively.
Russian authorities violated their obligation under international humanitarian law to facilitate in every possibly way the reunion of families dispersed as a result of the armed conflict.
Russian authorities have committed torture and cruel or inhuman treatment.
Some members of Russian armed forces committed the war crime of rape and sexual violence — which can amount to torture — in areas they controlled.
The commission has generally found that Russian armed forces launched or likely launched "indiscriminate" attacks that used weapons that struck both military and civilian objects without distinction. "The multiple examples of such attacks and the failure to take feasible precautions show a pattern of disregard on the part of Russian armed forces for the requirement to minimize civilian harm," the report said.
Patterns of willful killings, unlawful confinement, torture, rape, and unlawful transfers of detainees in Russian-controlled Ukrainian areas.
The commission said that in the course of gathering evidence it visited 56 cities, towns and settlements and conducted several hundred interviews in person and remotely. It also "inspected sites of destruction, graves, places of detention and torture, as well as weapon remnants; and consulted documents, photographs, satellite imagery and videos."