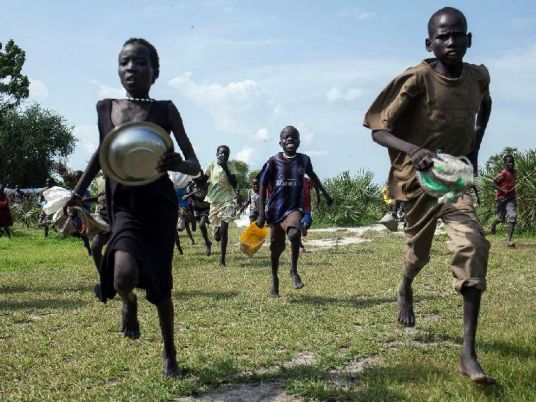 At least 28 towns and villages have been attacked in South Sudan's oil-producing Unity State during almost two weeks of fighting, with reports of killings, rape, arson and looting, a UN human rights official in Geneva said on Tuesday.
The world's newest state, which declared independence from Sudan in 2011, was plunged into conflict nearly 18 months ago between forces loyal to President Salva Kiir and rebels allied with his former deputy, Riek Machar.
The conflict reopened ethnic fault lines between Kiir's Dinka people and Machar's forces, who are largely ethnic Nuer.
Fighting has been especially fierce in Machar's native Unity state, where the United Nations says 300,000 people are cut off from emergency food and medical aid.
Rupert Colville, a spokesman for the UN High Commissioner for Human Rights in Geneva, said it appeared the perpetrators of the attacks were soldiers with the South Sudan Army (SPLA) and mobilised youths "clad in civilian clothes, wielding AK-47s".
"Whenever fighting intensifies between government and opposition forces, the civilian population bears the brunt," he told a news conference. He did not have figures for how many people had been killed.
The United Nations has withdrawn its staff from Unity state, while Doctors Without Borders said last week it had shuttered its hospital in the town of Leer for the second time in two years.
The timing of the attacks is especially alarming because they come as farmers are planting crops, Colville said.
South Sudan's government said on Tuesday rebels were behind a flare-up in fighting and accused them of planning more attacks in Unity and Upper Nile states, the major oil-producing areas.
"All the fighting in Upper Nile is around the oil areas," South Sudan's military spokesperson, Philip Aguer, told Reuters, adding rebels had targeted Unity's oil hub Bentiu. "Their intention is to control the oil fields in the areas."
He also cast doubt on the number of displaced people.
"Fighting has not reached the area of Leer, and I don't think the populations should run," he said, because civilians were not being targeted.
A rebel spokesman could not immediately be reached.