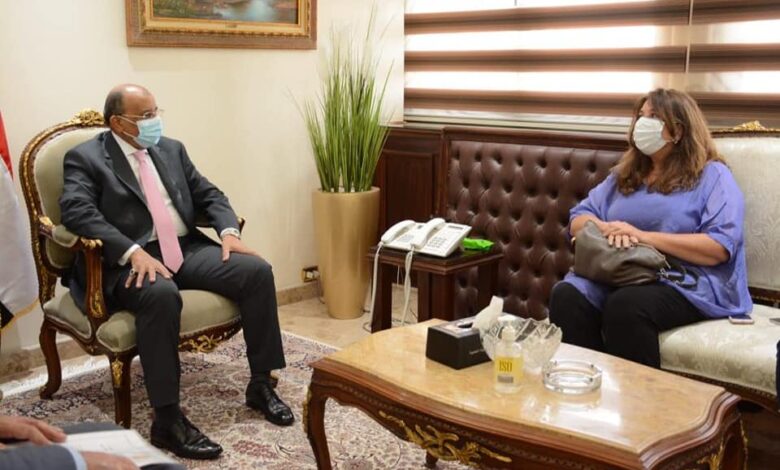 The Minister of Local Development Mahmoud Shaarawy on Friday met with with the Director of the United Nations Human Settlements Program "Habitat" Rania Hedeya and the Director of the Program on Governance, Legislation and Urban Policies in the program, Amr Lashin, discussing Egypt's preparations to host the World Urban Forum.
The meeting in Cairo went over steps related to Egypt's hosting of the World Urban Forum, after the official agreement to organize and host the forum was signed during the activities of the 11th session, which was held in early July in Katowice, Poland.
The World Urban Forum is the most important global platform that deals with all aspects and sectors of sustainable urbanization and areas of sustainable urban development, he said, adding that holding this forum in Egypt will be an opportunity to introduce the world to the urban achievements made by the Egyptian state.
He also stressed the state's keenness to bring out this important international event in a manner befitting Egypt, especially in light of the ongoing preparations to host many important international events such as the Climate Summit COP27, to be held in November at the Red Sea resort city of Sharm el-Sheikh.
Shaarawy said that continuous communication is ongoing between his ministry, the Program and the Ministry of Housing, to prepare for the program of the next forum, identify the main and subsidiary topics and translate this into activities that meet the expectations of all participating parties.
Plans are also in place to organize events with some international and regional organizations for the technical preparation of the forum.
Promoting Egyptian tourism
The forum will be an opportunity to promote the tourism, culture and civilization of Egypt, he said, especially in light of the great successes that Egypt has achieved in urban development, as well as after the completion of a large number of major national projects during the coming period.
Hedeya confirmed providing the necessary support and cooperation with the Ministry of Local Development, to come out in the next session of the forum in the best possible way.
Egypt boasts an excellent urban development experience, she said, especially in eliminating slums, planning and building new cities and the urban renaissance that Cairo has witnessed in recent years.
The Director of the United Nations Human Settlements Program in Cairo expressed the confidence of the United Nations in Egypt's ability to host and organize the next urban forum.
The meeting witnessed a review of the latest developments of the sustainable cities initiative that addresses sustainability issues in existing cities, which includes cities affiliated with the governorates and new cities affiliated with the New Urban Communities Authority in implementation of the national strategy for climate change.