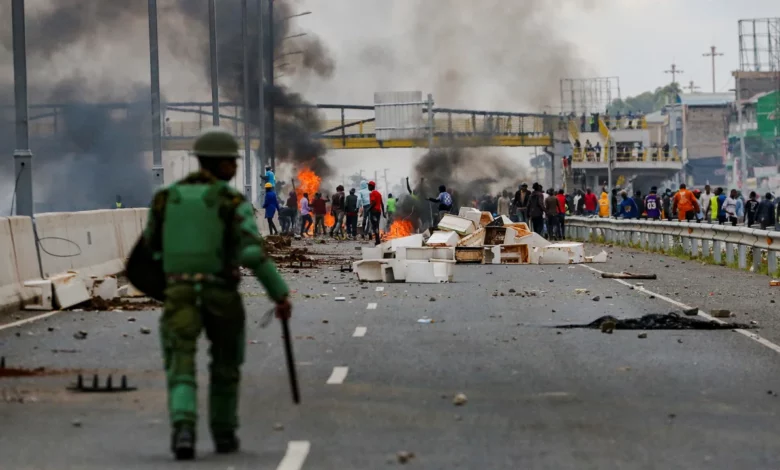 CNN
 —  The United Nations said it was "very concerned" about the
widespread use of violence
by police against protesters in Kenya, after clashes against tax hikes reportedly turned deadly.
Protests broke out across the country on Wednesday, including the capital Nairobi, where Opiyo Wandayi, who leads the opposition in Kenya's parliament told CNN that demonstrators were forcefully dispersed by police.
"Reports say up to 23 people have been killed and dozens injured in the demonstrations in the past week," UN Human Rights Office spokesperson Jeremy Laurence said Friday in a press release.
Laurence called for "prompt, thorough, independent and transparent investigations into the deaths and injuries. Those responsible must be held to account. Effective measures to prevent further deaths and injuries must be adopted."
"In light of calls for further protests next week, we call on the authorities to ensure the right to peaceful assembly as guaranteed by the Kenyan Constitution and international human rights law.
The policing of protests must seek to facilitate peaceful assemblies, and any use of force must be guided by the principles of legality, necessity, proportionality and non-discrimination. Firearms should never be used to disperse protests," Laurence said.
Laurence also appealed "for calm and encourage open dialogue to address social, economic and political grievances, with the aim of identifying lasting solutions in the interests of all Kenyans."
Demonstrations have flared in Kenya over a raft of unpopular tax hikes proposed by the national government.
Kenyan opposition leader and former prime minister Raila Odinga has led calls for protests over the increases.
Odinga lost the election in August last year and believes the results were manipulated and has since led civil disobedience protests against his political rival.
A Kenyan court temporarily halted the implementation of the Finance Act 2023 touted by President William Ruto as a measure to shore up public finances and increase domestic revenue.
However, the Ruto administration defied the court order and increased tax on fuel prices, which has led to a rise in cost of transport and staple goods.
From CNN's Sharon Braithwaite in London with previous reporting from CNN's Nimi Princewill in Abuja, Nigeria