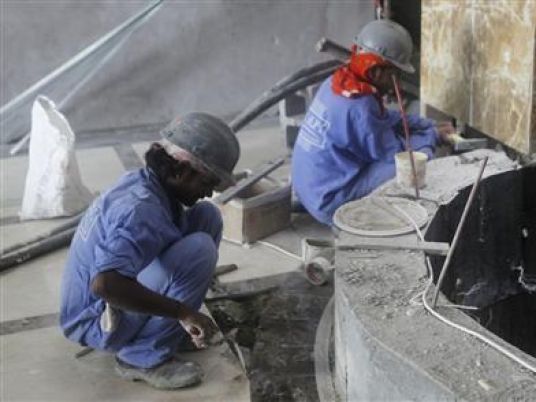 More than 80 construction workers hired to work in Doha's high-rise towers and stadiums, mostly from Asia's poorest countries, are facing a "serious food shortage" after working for almost a year without pay, Amnesty International said on Wednesday.
"Their conditions are still the worst as they have not been paid for almost a year; they are starving as they cannot afford buying food. They also can't afford to send money back home to their families,"said Salil Shetty, Amnesty's secretary general.
The allegations leveled by the leading human rights organization place further pressure on the tiny but wealthy Gulf state over its treatment of overseas laborers as it prepares to host the 2022 FIFA World Cup .
The London-based organization claims laborers working on two floors of the Al Bidda Tower in the Qatari capital are still waiting for up to a year's worth of salaries from their employer for a project finished in October. The tower is home to the Qatar Football Association.
Workers in general complain about abuses ranging from passports being withheld by Qatari employers and not being provided with healthcare to working for long hours without adequate pay.
Affected laborers come from Nepal, Sri Lanka, the Philippines, Nigeria, China and Bangladesh. Few Egyptians work in this construction field; most work in hotels. It is still unclear why the workers' employer, Lee Trading and Contracting, did not pay. Documents suggest the workers are owed about US$412,000, according to Amnesty.
The project was completed in October 2013, and since then the laborers have been stranded in their camp, the rights group said.
The company could not be reached by phone and Qatari officials could not be reached for comment.
One Nepalese laborer told Amnesty researchers: "'Do the work and we'll pay you tomorrow', they said … We kept doing the work and they kept changing the date and we never got paid."
The same man said that his sister had committed suicide in Nepal in mid-2013 because of the financial problems that his family was facing. He had not been able to send them any money for many months and was not able to return home for her funeral.
Qatar has vowed it would review the workers' conditions and publish a report of claims of widespread abuse of migrant workers, revamping Qatar for the upcoming World Cup within the next few weeks, as organizers prepare to start work on the first of 12 stadiums.
Amnesty's claims emerge at time in which the oil and gas-rich country is under international scrutiny after a Guardian investigation brought light to the plight of workers and Qatar's use of exploitionary tactics in preparing for the World Cup.
According to documents the Guardian says were obtained from the Nepalese embassy in Doha, at least 44 workers died between 4 June and 8 August. More than half died of heart attacks, heart failure or workplace accidents.
Last month, Amnesty called on the international football governing body FIFA to ensure an end to the exploitation of migrant workers, and warned that laborers face dangerous working conditions, poor accommodation and unpaid wages.
"It is shameful to think that in one of the richest countries in the world, migrant workers are being left to go hungry. The Qatari authorities must take action immediately," Shetty said.
Egyptians in Doha, stuck between a rock and a hard place
Thirty-four-year-old Ahmad Shedid left Egypt for Doha three months ago after shutting down his small business in downtown Cairo. His business was hard hit by the country's economic crisis that resulted from nation-wide political turmoil following the 25 January uprising in 2011.
Like many Egyptians who find it hard to get a working visa to Europe, a visa to an oil-rich Gulf country was possible but a "bitter pill to swallow," Shedid said.
Shedid is still looking for a job in Qatar.
"Yes there is a lot of money here, but being treated like a slave is disgraceful," said Sameh Abdul-Aziz, an Egyptian car-driver who has been in the country for almost four years.
Slavery here is manifested through the "kafala" system, a form of sponsorship in which a Qatari citizen sponsor, or "kafeel", becomes legally responsible for a laborer. The kafeel holds onto laborers' passports and provides them with employment, a work visa and basic services.
"You have to blindly follow the sponsor's orders, and you cannot leave the country for any reason without his permission, and in most cases, he is a bad guy," Abdul Aziz said.
The indentured servant must also receive the kafeel's permission to rent a home, open a bank account, get a driver's license or change jobs.
Shedid used all of his savings, amounting to LE20,000, for a one-year visa to Qatar that allows him to look for a job. If he does not find an employer to hire him and extend his visa, he has to leave the country. After three months in the country, Shedid is still looking for work.
"Life here is very expensive, I spent all my savings I have made in Egypt in just three months, but I cannot get back to Egypt until I, at least, get the money I paid so far back," Shedid said.
,Shedid described both sides of the security and order of Qatari life.
"I was impressed with the order here when I first arrived, but you feel like it is dead city, no soul, not like Cairo's downtown coffee shops, no fun. Here you just work and go back home to sleep to wake up the following day to work again. Just a routine life," Shedid said, adding, "it is all for money, your main objective is to save money, but no life."
While kafala affects all countries in the Gulf Cooperation Council, it is most prevalent in Qatar and Saudi Arabia, which have some of the highest amounts of migrant laborers relative to the native population. Bahrain claimed to have abolished its system in 2008, but analysis by Human Rights Watch showed that while laborers' were given expanded rights to change employers without requiring permission, de facto realities indicated lack of compliance with the decision.
Earlier this year Kuwait Times announced that the country would replace the system with an alternative in which laborers are managed by a new ministry, but changes have yet to take place. Qatar made similar unrealized intimations in 2012, when Labor Undersecretary Hussain Al Mulla told Al Arab newspaper that the system would be replaced by one involving contracts signed between laborer and employer.
The Guardian featured an expose detailing major widespread labor abuses, including dozens of deaths resulting from tough conditions faced by construction workers that equated to to slavery. The account was confirmed by Egyptians working in Doha.
"I saw a dead body in the street in the blistering heat of summer," said Moataz Ahmad, an Egyptian waiter in a Qatari hotel who preferred to remain anonymous for fear of being fired from his job.
The alleged abuses generated widespread international outrage and condemnationfrom international labor groups, trade union bodies, human rights organizations and FIFA, which pledged to further scrutinize plans for the event, whose bid was won by the smallGulf state three years ago.
Asian workers are the worst affected
In one of many stadium construction sites, Robert, a 36-year-old Philipino was working after midnight. He stood among others covering his face, initially too shy to speak about his conditions. After breaking the ice for a while, he uncovered his face. His eyes– pale, reddish, and worn from not sleeping for 24 hours– spoke far louder than his quiet voice.
Robert was probably not his real name. He came from his tiny village in the Philippines to Doha eight months ago, leaving his wife and two kids. Before he was in Saudi Arabia, where he made less money under worse conditions.
Robert works almost 14 hours a day in order to earn a monthly salary 3,300 Qatari Riyals, equivalent to US$900., He lives on a quarter of his wages, sending the rest to his family.
When asked why his eyes are pale, he said "I sleep only four hours a day, and one week I sleep in the morning because I have night shift, and another week I sleep at night to work in the morning," explaining that the drastic shifts in sleep times cause him to be continuously exhausted.
The worst part of the experience for Robert is being away from his wife for almost wo years without being able to visit or bring her to Qatar.
"For two years I cannot sleep with my wife, I masturbate," Robert said.
"My passport is withheld by the company I work for and I will not be allowed to take it back until after two years when my contract terminates otherwise I will lose my job and will be banned from working in the country again."
HRW called on Gulf states to do more to guarantee workers' rights on Wednesday
The group highlighted the potential for abuse within the "kafala" system of sponsorship that ties workers' status in the country to their employers, as well as the risk of exploitation of female domestic workers in private homes across the region.