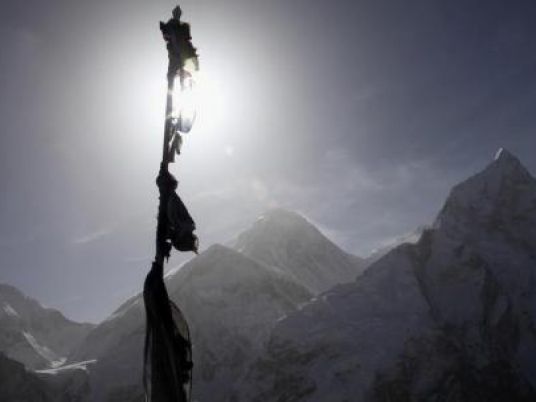 A fresh 7.3-magnitude earthquake struck Nepal on Tuesday, killing more than two dozen people in the Himalayan country and neighboring states, as many buildings already weakened by a much bigger quake last month were brought down.
The earthquake was centered 68 kilometers west of the town of Namche Bazaar, close to Mount Everest and the border with Tibet, the US Geological Survey said. It could be felt as far away as northern India and Bangladesh.
Buildings swayed in New Delhi, sending office workers scurrying on to the streets. Residents in the Indian town of Siliguri, near the border with Nepal, said chunks of concrete fell off one or two buildings.
Nepal's home ministry said the death toll from the quake had reached 19, with 981 injured.
Five people were killed in Indian states bordering Nepal – one in Uttar Pradesh and four in Bihar, officials said, and Chinese media reported one person died in Tibet after rocks fell on a car.
Nepal is still picking up the pieces from the devastation caused by last month's 7.8-magnitude earthquake, the country's worst in more than 80 years, which killed at least 8,046 people and injured more than 17,800.
Hundreds of thousands of buildings, including many ancient sites, were destroyed and many more damaged.
Mountaineers seeking to scale the world's tallest peak have called off this year's Everest season after 18 people died when last month's quake triggered avalanches on the mountain.
Dambar Parajuli, president of Expedition Operators' Association of Nepal, said there were no climbers or Nepali sherpa guides at the Base Camp.
"All of them have already left," Parajuli said.
In Lukla, the departure point for treks to Everest, buildings cracked and small landslides were triggered when the ground shook.
Locals said three teenage school students were injured.
est season.