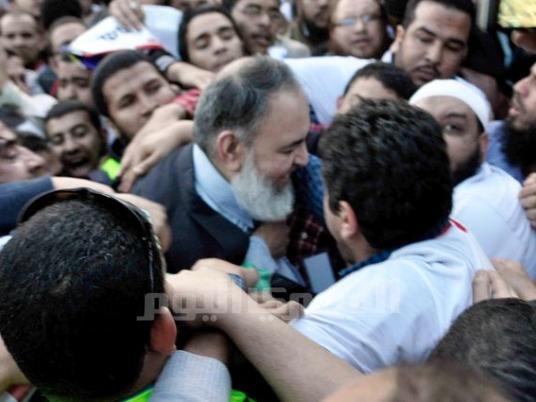 Pro-Abu Ismail protesters destroyed a stage set up by anti-Constituent Assembly protesters in Tahrir Square on Friday.
Twenty political parties, movements and coalitions had called for a demonstration to protest Islamist domination over the Constituent Assembly, state-run Al-Ahram newspaper said Friday. Meanwhile, thousands of supporters of presidential hopeful Hazem Salah Abu Ismail have gathered in the square to protest his exclusion from the presidential race.
Al-Dostor news website and Al Jazeera Mubasher Misr reported that Abu Ismail supporters dismantled the stage while chanting "God is Great."
Al-Dostor said that they destroyed the stage after a speaker called for a civil state. It added, citing Facebook pages, that Sheikh Khalid Abdallah, who attended in support of Abu Ismail, incited pro-Abu Ismail protesters to break down the stage. Abdallah presents a religious program on the Salafi-led Al-Nas channel.
Al-Masry Al-Youm reported that both sides clashed after hundreds of Abu Ismail supporters surrounded the stage after speakers said the Salafis and Brotherhood betrayed the revolution, forgot the blood of the martyrs, and returned to Tahrir for personal interests.
Al-Masry Al-Youm earlier said that youth threw chairs at Abu Ismail supporters as they performed Friday prayers.
The Presidential Elections Commission said on Thursday that it received an official letter from the Interior Ministry's Immigration and Naturalization Department confirming that Abu Ismail's mother, Nawal Abdel Aziz Nour, entered Egypt on a US passport in the last five months before her death.
According to Egyptian law, candidates running for president cannot descend from parents who hold an additional citizenship.
State-run MENA news service said thousands staged a massive march from Fatah mosque in Ramses Square holding banners and photos of Abu Ismail. The protesters chanted anti-military council slogans and other slogans including, "The people want Hazem Abu Ismail," "Islamic, Islamic, No God but God…Islamic, God willing."
Al-Ahram newspaper reported that protesters chanted, "They said his mother was American because he called for freedom," "The Salafis said it strongly, Hazem won't be a victim," "Oh Moshir (field marshal) tell Anan, Hazem is coming through the square," and "The Interior Ministry is the same, each day fabricating a case."
Supporters of presidential hopeful Hazem Salah Abu Ismail had begun gathering in Tahrir Square in the morning to protest what they call an "American a plot against him."
Abu Ismail's supporters set up a stage in front of the Mugamma building in Tahrir and raised a banner bearing Abu Ismail's photo that reads, "We won't allow manipulation…We'll live with dignity…Abu Ismail is not only for Salafis," state-run MENA news service reported. Speakers on the stage broadcasted verses from the holy Quran.
MENA reported that some of the supporters distributed a statement warning the US of "the anger of the Egyptian people."
"You don't know the abilities of the Egyptian people… Warning: we won't allow manipulation and we'll live with dignity," the statement said, according to MENA.