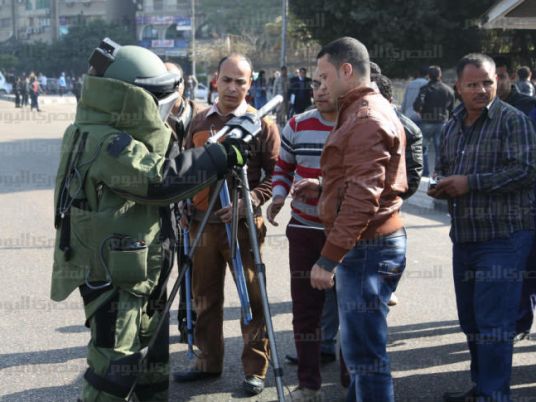 Two people were killed when a bomb exploded near a top court building in central Cairo, the health ministry said, the deadliest attack in three blasts to hit the Egyptian capital on Monday.
The repeated security incidents in Cairo have raised concern over the effectiveness of security forces who have pledged to end Islamist militant violence bedevilling government efforts to revive investment and foreign tourism crucial to the economy and stability of the Arab world's most populous country.
An Interior Ministry statement said the bomb exploded under a car near the courthouse, wounding police and civilians. Health ministry spokesman Dr. Hossam Abdel Ghaffar later told Reuters that two civilians were killed and there were nine wounded.
Security sources said the public prosecutor, whose office is in the building, was inside at the time of the blast. They said he had since left to inspect the scene of the attack.
Crowds gathered in front of the court, where police had blocked off nearby roads. There was some damage to two cars in the area and blood splattered on a nearby pavement.
Later on Monday, a homemade bomb exploded in the Heliopolis suburb of Cairo, an interior ministry security source told state news agency MENA, causing no casualties.
A third bomb, also homemade, exploded near a police station in the Cairo suburb of Maadi, damaging a few cars but causing no casualties, security sources said. The Interior Ministry said on its Facebook page the bomb went off near a fire station.
Monday's Cairo attacks followed a string of similar low-level bombings in the capital on Thursday that killed one person. ID:nL5N0W01X2]
While most of the worst attacks in Egypt have hit the Sinai Peninsula, a remote but strategic region bordering Gaza that is a hotbed of Islamist militants, smaller blasts have become increasingly common in Cairo and other cities.
Egypt has been grappling with rising Islamist militancy since then-army chief Abdel Fattah al-Sisi ousted freely elected Islamist President Mohamed Mursi in 2013 after mass protests against his rule.
Sisi, now president, has cracked down hard on Mursi's Muslim Brotherhood, which the government has declared a terrorist group. The Brotherhood renounced violence as a means of political change decades ago and denies any link with recent militant attacks.
Monday's attack was not the first to target court buildings in Cairo. In October, a homemade bomb exploded near the same area, wounding 12 people.
Sisi signed off on an anti-terrorism law last week giving authorities sweeping powers to ban groups on charges ranging from harming national unity to disrupting public order.
Cairo is hoping security concerns will not detract from a high-profile investment conference it is hosting later this month in the Sinai Red Sea resort town of Sharm al-Sheikh.