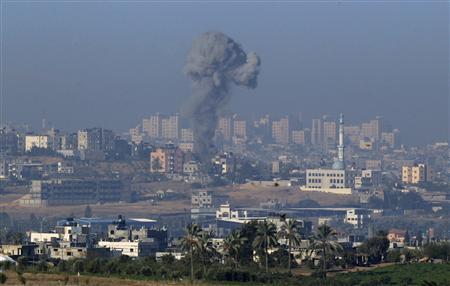 Egyptian authorities closed the Rafah border crossing after the Israeli occupation forces targeted the Palestinian side of the crossing with two missiles that exploded next to it. Israeli forces have escalated attacks on the border and targeted the tunnels on the Egyptian border with the Gaza Strip.
The city of Rafah witnessed a state of panic due to the explosions, with many shops and businesses closing early.
Earlier on Thursday evening Presidential Spokesperson Yasser Ali announced that President Mohamed Morsy has instructed Prime Minister Hesham Qandil to head a high-level delegation to the Gaza Strip on Friday.
Qandil's visit to Gaza will emphasize Egypt's solidarity with the people of Gaza in the face of brutal Israeli aggression, Ali said, as well as meet the urgent needs of the Palestinian people.
"The Egyptian leadership informed us that Prime Minister Hesham Qandil will visit Gaza tomorrow, accompanied by a number of ministers. We welcome this visit and appreciate this courageous stand," Hamas spokesperson Taher al-Nunu told AFP.
The visit "confirms the support of the Egyptian leadership, government, and people for the Palestinian people in the shadow of the Israeli war against them in Gaza," he added, saying Qandil would meet Hamas premier Ismail Haniyeh.
The Health Ministry announced on Thursday the formation of a joint central operations room in collaboration with the Pharmacists and Doctors Syndicates, to treat injured Palestinians in Gaza.
Amgad Amin of the Pharmacists Syndicate in Cairo told Al-Masry Al-Youm that head of the syndicate Mohamed Abdel Gawad is now in the Gaza Strip leading a delegation of pharmacists.
Israeli media outlets reported that Egypt's ambassador to Israel Atef Salem al-Ahl left Tel Aviv on Thursday. Cairo recalled the ambassador on Wednesday after a series of Israeli air strikes on Gaza killed Jabari and others, President Mohamed Morsy's spokesperson said in a terse statement. Ahmed al-Helali, a member of the International Union for Muslim Scholars, told Al-Masry Al-Youm that it was essential that the Egyptian ambassador not return to Israel as long as the attacks continue. He called on all revolutionary forces to unite to support Palestinian resistance.
Meanwhile, Israeli Ambassador to Egypt Yaakov Amitai left Cairo on Wednesday after being summoned by the Egyptian foreign ministry, state-run Al-Ahram newspaper reported. However, Reuters quoted an Israeli diplomat in Jerusalem on Wednesday as saying that Amitai had returned to Israel before Tel Aviv launched its assault on the Gaza Strip. 


Egypt's official news agency MENA quoted an informed diplomatic source as saying that contrary to several reports, Egypt did not ask the Israeli ambassador to leave. Over the last year, the ambassador usually spends the weekend in Israel, leaving on Thursday and returning on Sunday. He said it is not certain whether he will return on Sunday or not.
He went on to say that there are several steps Egypt can take in response to the brutal aggression on Gaza.
"It may be sufficient to summon the ambassador from Tel Aviv for consultation, a step less severe than withdrawing him," he said. "The difference is when you summon the ambassador for consultation, it will be for a limited period and it is known that he will return within days. But when you start with withdrawing the ambassador, it means that Egypt has chosen the strongest option from the beginning."
If the attack continues and there are more casualties, according to the diplomat, it will be possible that the Israeli ambassador to Egypt becomes persona non grata, or is expelled. Both have the same result in legal terms, he explained, but expulsion would constitute a stronger statement diplomatically.
The next step, he says, would be to freeze relations. Countries usually start with freezing economic relations, and this is usually associated with an escalation before a declaration of war. In this case, the potential impact on economic relations with the United States must be closely studied.
This is merely theoretical talk about the options available, the diplomatic source said, stressing that he does not have specific information about what steps will be taken.
Hundreds of protesters rallied in front of the Arab League in Cairo against the Israeli assault on Gaza Thursday, chanting slogans and carrying Palestinian flags, Al-Masry Al-Youm reported.
In televised remarks earlier Thursday, President Mohamed Morsy rejected what he called Israel's aggression in Gaza, saying it threatened to destabilize the region, while Cairo called on the US to stop Israel's strikes.
"The Israelis must understand that we do not accept this aggression, which could lead to instability in the region," Morsy said, as Israeli air forces pummeled Gaza and militants fired rockets back in a deadly tit for tat.
In an earlier telephone conversation with US Secretary of State Hillary Clinton, Foreign Minister Mohammed Kamel Amr "called on the United States to immediately intervene to bring to an end the Israeli aggression against the Palestinian people in Gaza," the ministry said in a statement.
"As long as the Israeli aggression continues, the situation will worsen in a way that will make it uncontrollable," Amr told Clinton late Wednesday.
He called on Washington to "use its contacts with Israel to bring to an end this aggression."
The Suez Canal Authority has denied reports that it prevented the passage of Israeli ships according to several news sources.
Egypt, which in 1979 became the first Arab country to sign a peace treaty with Israel, previously withdrew its ambassador after a Palestinian uprising that began in 2000, when President Hosni Mubarak was still in power.
Morsy, an Islamist elected in June after Mubarak's overthrow in 2011, has promised to take a harder line on Israel than his predecessor, who was accused of doing little to stop the Jewish state's devastating assault on Gaza in December 2008-January 2009.
Egyptian authorities opened the Rafah border crossing with the Gaza Strip on Thursday, German news agency DPA reported.
"Work would resume on both sides of the border in order to be ready for the arrival of any injured Palestinians so they could be transferred to Arish Public Hospital, which is ready to receive them," a security source told DPA.
Also on Thursday morning, Major General Mohamed Refaat Shehata, head of the Egyptian intelligence services, returned to Cairo from Turkey to follow up on recent developments in Gaza.


Sources told DPA that Shehata arrived from Istanbul on Thursday, cutting his trip to discuss bilateral cooperation between Egypt and Turkey short. An Egyptian-mediated ceasefire between Hamas and Israel failed Wednesday following the Israeli assassination of Ahmed al-Jabary, the commander of Hamas's Ezzedeen al-Qassam Brigades. 


Shehata is expected to attempt to negotiate a new truce between Israel and Hamas, as he had played an important role in securing the original ceasefire. Cairo often plays a mediator role between Israel and Hamas whenever violence erupts between the two sides.
Tight security measures have been taken in South Sinai Governorate, particularly focusing on the main roads entering the area and on the border regions of Taba and Negev, in anticipation of any jihadist elements attempts to attack Israeli tourists.
An official source in Taba land port said that Israeli tourists have increasingly chosen not to holiday in Taba anyway, despite tourist resort offers. Sami Salman, head of the Association of Taba and Nuweiba Investors, said the current events will affect tourism in all of Sinai.